Simba Makoni: no regrets about splitting anti-Mugabe vote in 2008 – By Magnus Taylor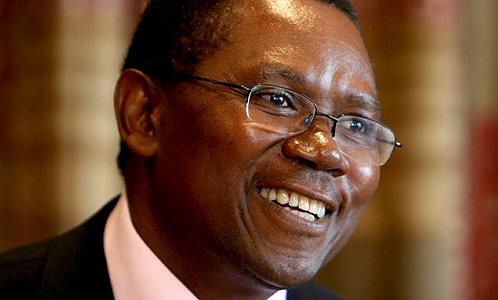 Simba Makoni is the bespectacled former Executive Secretary of SADC turned Zimbabwean Finance Minister (2000 – 2002), turned Presidential candidate in 2008 as leader of his own MKD party. It was with his MKD hat on that Makoni spoke on Tuesday night at SOAS in central London. By all appearances, Simba is working himself up for another shot at the Presidency – informally announcing his candidacy to an audience of Zimbabwe watchers and members of the Zimbabwean diaspora – found in strength in the UK.
Given past experience, Makoni's chances of beating both Robert Mugabe (ZANU-PF) and Morgan Tsvangirai (MDC) to the top job are slight. Makoni finished third in 2008 with around 8 percent of the vote. He originally wanted to stand as ZANU-PF's Presidential candidate, but was denied this by the continued supremacy of President Mugabe within the party. He remains proud of his former association with ZANU-PF, stating that "˜everyone [his] age had to join ZANU if they wanted to be involved in politics.'
He also has no regrets concerning his involvement in the 2008 election when some, as argued by RAS Director Richard Dowden, have suggested that his candidacy split the anti-Mugabe vote and allowed the veteran President to remain in power. Makoni rejects this argument, stating that he does not believe that the people who voted for him would have voted for Morgan Tsvangirai. Makoni was also able to "introduce new messages to the political campaign" and if he hadn't won the right of a seat at the table "we probably wouldn't have got the Global Political Agreement." (GPA) The GPA saw the creation of the Government of National Unity in which Morgan Tsvangirai became Prime Minister and MDC figures took up key ministerial portfolios including the Ministry of Finance, now under Tendai Biti. Official dollarization of the Zimbabwean economy took place in 2009, which stopped the hitherto uncontrollable process of hyperinflation, and stabilised the economy.
Makoni's presentation focused on Zimbabwe as "a land of contrast" – being in "deep crisis" yet displaying "profound opportunities." Whilst the Harare High Street may make available most of the products one would expect in a European capital, most citizens are barely surviving. Violence may have reduced since the politically fraught years surrounding the last election, but instances of intimidation and murder do still occur – particularly in the rural areas.
Makoni's proscriptions leading towards the 2013 election are simple  – "we don't need a new constitution to hold free and fair elections…our electoral law is adequate…our electoral commission is adequate (if you took the wrong people out of it.)" He remains optimistic about his chances in 2013, but the reality must be that it will once again be a straight fight between Mugabe and Tsvangirai, with Makoni's main hope being that he might be involved in another (more technocratic) government of national unity that would arise after the next election.
Makoni is quite optimistic about the 2013 polls, stating that after the GPA it is unlikely that SADC leaders will allow Mugabe to "do it [his] normal ways." SADC's own dignity and integrity is on the line.
Finally, Makoni's diagnosis of what has led to the current crisis in Zimbabwean national life is simple – "it is about power and control." His answer seem to be that vote for him and MKD promises to work with "competent opponents" – shunning a "˜winner takes all' politics in favour of national rebuilding. Makoni is clearly a brave and intelligent individual who speaks much sense about the future of his country. However, whether this will have much impact in the bear-pit of the next Presidential election is another matter entirely.
Magnus Taylor is managing editor, African Arguments Online.