Finally, Kenya Arrests Radical Cleric Shaikh Hassaan – By Hassan M. Abukar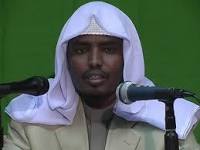 Two days ago, Kenyan security officers raided the house of Shaikh Hassaan Hussein Adam "˜Abu Salman', a radical cleric known for his support of Al-Shabaab. The cleric and his wife were interrogated in Nairobi's Eastleigh neighborhood before being taken into custody.
Prior to his detention, the Kenyan authorities were aware of the cleric's influential role among Somali jihadists. Shaikh Hassaan has been the informal mufti of Al-Shabaab, issuing fatwas that justified the terror group's killings and carnage in Somalia. Last year, the cleric issued his famous fatwa in which he propagated the killing of jihadists who sowed discord among the mujahidin in Somalia. Ahmed Abdi Godane, the Emir of Al-Shabaab, used that same fatwa as a pretext to terminate his rivals in the radical group. Two founders of the militant group""Ibrahim Al-Afghani and Abdihamid Olhaye "˜Moalim Burhan'""were killed in the coastal town of Baraawe in Somalia last June.
Shaikh Hassaan has been on the United Nations sanctions list for providing material support to Al-Shabaab by raising funds for the group and recruiting new members. In 2011, a UN Security Council report accused the cleric of orchestrating "acts that threaten the peace and security of Somalia." Over the years, Shaikh Hassaan has been arrested, but was detained for a short period and then released thanks to powerful interlocutors who made sure he was not kept in custody. Shaikh Hassaan belongs to a powerful Somali-Kenyan clan, the Ogaden, which has highly influential political supporters in Kenya. Amongst these were some prominent Somali politicians, including Farah Moalim who, until a year ago, was deputy speaker of the Kenyan parliament.
Shaikh Hassaan Hussein Adam
The detention of Shaikh Hassaan raises serious questions about the timing. Why now and not before?
Several factors are at interplay here that can shed some light on the government's new move against the cleric.
First, Kenya has been experiencing increasing terrorist attacks from Al-Shabaab; ranging from bombings of churches to the targeted kidnapping and killing of police officers. Last year's Westgate Mall terrorist attack has emboldened the militant Somali group to rattle the Kenyan populace. But it seems the tide has turned swiftly against Al-Shabaab: on the same day Shaikh Hassaan was arrested, Shaikh Abu-Bakr Sharif Makaburi""another cleric on the UN sanctions list for aiding Al-Shabaab""was publicly killed in Mombasa. The obvious question is whether, in light of Al-Shabaab's escalating terror attacks, the Kenyan government has had enough and is changing its strategy in dealing with the militant group's supporters. Are more arrests likely in Nairobi and are further extrajudicial killings a possibility in Mombasa?
Although it is not conspicuous, it appears that the Kenyan authorities have a dual approach in dealing with Al-Shabaab sympathizers. In Nairobi, the authorities are targeting Al-Shabaab supporters with arrests and detentions. On the other hand, the liberal use of extrajudicial tactics is being applied to supporters in the coastal areas. Most of the jihadi sympathizers in Nairobi are Somalis, a segment of the population that has a presence among the country's political elite. The coastal Muslims lack strong political pillars in the government.
Second, Kenyan President Uhuru Kenyatta and his deputy, William Ruto, for the first time, have started engaging Somali community leaders in the war against Al-Shabaab. On March 29, President Uhuru and Ruto met with Somali businessmen in Eastleigh and with Somali-Kenyan politicians to discuss what needed to be done about Al-Shabaab's intensifying terror attacks. Uhuru told these leaders the terror attacks must stop. An agreement was reached between the government and the Somali community leaders to cooperate. The Somali leaders promised to form a team among themselves that included businessmen, youth, women, and clerics to identify those in their midst who are involved in terror activities. Is Shaikh Hassan's arrest, just four days after this historic meeting, an early result of the tentative pact between President Uhuru and the Somali leaders?
Third, the cleric's arrest might be part of a wider government policy to get rid of Somali refugees. According to the United Nations High Commissioner for Refugees (UNCHR), there are more than 630,000 Somali refugees in Kenya. The Dadaab camp alone has nearly half a million refugees. Kenyan government officials have repeatedly said they want to expel Somali refugees from their country for security reasons. "Some of these refugees," stated interior minister Joseph Ole Lenku, "have abused our hospitality and kindness to plan and launch terror attacks from the safety of the refugee camps." Though Shaikh Hassaan is a Somali-Kenyan, his supporters in Nairobi are overwhelmingly Somalis. Removing a popular cleric from the Somali community in Eastleigh might be part of the government's pressure to encourage more Somalis to leave the country.
It is possible that Al-Shabaab will retaliate against Kenya for Shaikh Hassaan's arrest. After all, the cleric has been the fatwa machine for the terror group because he has issued edicts that provided the religious justification for the radical group's criminal activities. Several Al-Shabaab figures opposed to Godane have confirmed the special affinity that exists between the terror leader and the Somali-Kenyan cleric. For instance, Godane "built" Shaikh Hassaan's personal library. This does not mean the wanted and elusive Al-Shabaab leader sent Islamic reference books from Somalia to Shaikh Hassaan in Nairobi, but rather Al-Shabaab has provided funds to the cleric to purchase books. Some captured Al-Shabaab fighters have claimed Shaikh Hassaan is a member of the radical group.
Hassan M. Abukar is a political analyst and can be reached at [email protected].