Digital tech: improving access to education in Nigeria [Haller Prize 2nd place]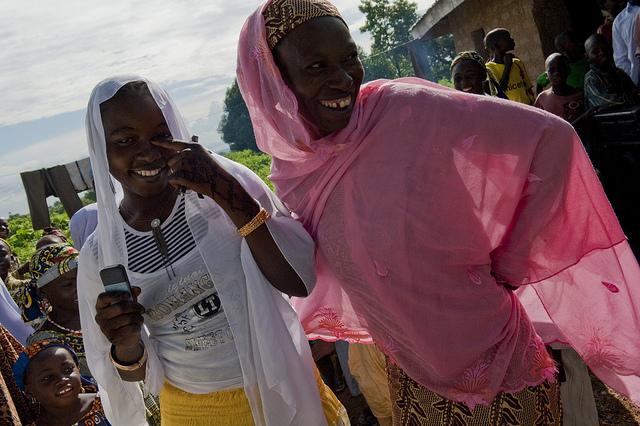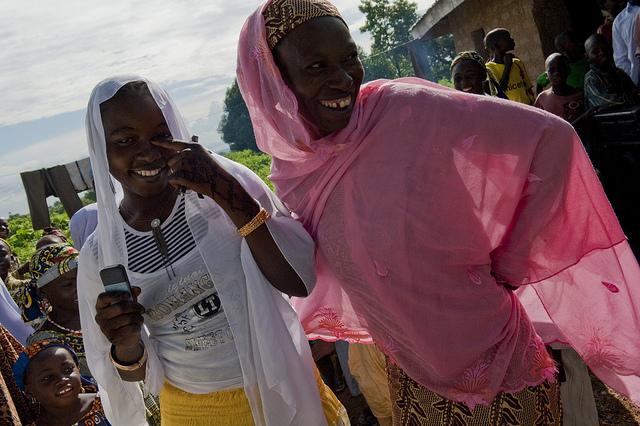 This entry was awarded 2nd place in the 2016 Haller Prize for Development Journalism. In the third annual edition of the competition, professional and amateur journalists from across sub-Saharan Africa were asked to submit articles on the theme of: "How best can digital technology empower development in sub-Saharan Africa? And where are the challenges?" A record 110 submissions came in from across the continent. Also read the 3rd and 1st placed entries.
Aminu Usman, 15, wants to be a medical doctor. But that dream was near shattered when Boko Haram sect invaded his home town of Mubi in Adamawa state, northeast Nigeria last year, killed his parents and took his two sisters hostage. He has not heard from them since then.
Presently, he is one of the thousands of Internally Displaced Persons (IDPs) camping at the outskirt of the town, away from the haunting eyes of the dreaded sect and guarded by heavily armed soldiers.
However, Usman's dream of becoming a doctor is gradually coming to reality – all thanks to the American University of Nigeria (AUN), Yola, who deployed digital tech – savvy teachers and volunteers to train displaced children to use technology to continue education in preparation for their chosen fields. Usman and hundreds of others like him are now going back to the classrooms, armed with sophisticated gadgets with installed instructional apps.
According to UNESCO (2015), there are millions of out of school children in the conflict-ridden northeast of Nigeria.  But in one classroom, the future is looking brighter.
In a co-educational secondary school in Yola, capital of Adamawa state, each teenager sits in front of a laptop, embedded with online educational apps.  They are enrolled in an extracurricular class run by the nearby AUN, which prepares them for university degrees in mathematics, science and technology.
In the front of their class, Dr Wilson Uware, an engaging doctor from the university uses a ₦12,630 ($40) credit card sized computer known as "Raspberry Pi" to project mathematical charts and graphs on a white board.
"The youngsters here are bright, computer smart and ambitious. They say they would like Nigeria to have a Chinese style tech revolution and that is the direction we should be thinking towards in order to achieve all around educational development through digital tech – enabled devices and apps", Dr Uware said.
This is one of the 22 schools where AUN runs these classes. Dr Uware says the innovation is not just something for the elite. At a few dollars apiece, he sees no reason every school in the country should not be using this kind of tech to improve learning outcomes.
Similarly in south eastern Nigeria, the application of digital tech in learning is sweeping across classrooms especially in the rural areas. Here, school administrators and tech savvy teachers deploy the use of mobile apps in teaching students, thus improving learning and access to education even to the most disadvantaged members of the community.
At Community Secondary School, in Ezeagu local government area in Enugu state, with their mobile phones connected to a nearby Wi-Fi, which was installed by a telecommunication firm, students are taught English language with different mobile instructional materials.
"Mobile learning increases access to those who cannot physically attend learning institutions – those who would not otherwise be able to follow courses in a traditional educational setting due to the constraints of work, house hold activities or other demands", Professor Charles Omekwu, an expert in digital technology and Information Science from the University of Nigeria, Nsukka says.
"It makes education more accessible in that it enables learners to pursue their studies according to their own schedule", Professor Omekwu said.
With these mobile apps, students are improving their hopes of a better future by learning literacy, numeracy and critical thinking skills.
In 2014, the Nigeria Educational Research and Development Council (NERDC) in partnership with Sidmach Technologies Nigeria Limited launched an innovative e-curriculum.
The initiative which is powered by Intel Processor and Microsoft Computer Software brings curriculum both for students and teachers online and equipped with teaching and learning tools which helps teachers teach and students learn through interactive, analytic and collaborative learning environment.
The initiative by NERDC was in pursuance of the federal government's initiative in the education sector. For instance in 2006, the Federal Ministry of Education launched an ICT – driven project called School Net (www.snng.org) which was intended to equip all schools in Nigeria with digital technologies and broadband access to public schools across the country.
Recently, Facebook Founder, Mark Zuckerberg visited Nigeria's Co-Creation Hub in Lagos, where he addressed school children aged 5 – 18 years who are on a "Summer of Code" digital learning programme and described Nigeria's tech industry as the "next big thing" in Africa.
Despite all these abounding opportunities of learning through digital technology and improving access to education in the country at all levels, there are, however, some setbacks.
For instance, epileptic power supply is one of the recurring problems facing not only the economy, but the educational sector as well. Power outages are regular and random. This makes the situation a bit complex as some of these digital tech hardware run on electricity.
Poverty is also a challenge as some schools are running short of government budget, coupled with high cost of purchasing these facilities. For example, a smart phone or Android phone which can run these instructional apps goes for ₦25,620 – ₦31,575 ($80 – $100). The same applies to a tablet or personal computer (PC) which is sold between ₦80,500 – ₦113,670 ($255 – $360) respectively.
With Nigeria's economy in recession now, purchasing these gadgets for schools becomes a herculean task for government, administrators and students.
Similarly, some of the teachers are not ICT savvy. This poses a challenge and makes it difficult for digital information transfer to take place between teachers and students.
Mrs. Jane Nwankwo, a principal in one of the community schools in Enugu state, attributes this to poor perception of digital technology among teachers and school administrators.
"Many of them are showing lukewarm attitude to the innovation. In most cases, when the computers are installed with instructional apps, they (teachers) are not willing to learn from tutors. How can they now teach students?" she queried.
"But I think the presence of digital tech has greatly improved accessibility to education in Nigeria", Mrs Nwankwo says.
By Patrick Egwu Ejike (Nigeria)