Where's Africa in China's mega Belt and Road project?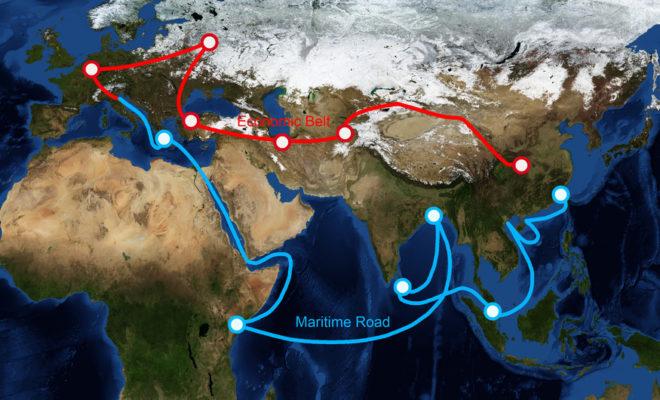 China has welcomed African countries that have expressed interest in its massive trade plan, but this won't be enough.
Chinese President Xi Jinping made it clear at the World Economic Forum meeting in Davos this January that the world should abandon protectionism and commit itself to an open global economy.
A recent summit in Beijing that focused on China's most ambitious foreign policy to date – the Belt and Road initiative – added texture to this call.
The grand vision was launched in 2013 originally as the "One Belt, One Road" initiative. It involves China underwriting billions of dollars of infrastructure investment in countries along the old Silk Road, linking it with a network of countries in Europe, Asia and Africa.
At the centre of the plan are two physical routes: the Silk Road Economic Belt, stretching from Asia to Europe; and the Maritime Silk Road that begins in China and passes along the Indian Ocean littoral to East Africa and then Europe.
Because of its high ambitions, the initiative has been criticised for being unachievable. Critics are also questioning the impact it may have on countries that are not officially linked to the routes.
For some countries, including BRICS stalwarts like India, the project challenges the current global order, replacing it with a Sino-centric one. Others believe the initiative presents an alternative approach to globalisation in an era where powers like the US seem intent on increasing protectionism and retreating from their global leadership role.
China has maintained that it is committed to taking an inclusive approach to trade and diplomacy. In a 2015 white paper it reiterated that the development of the initiative was open and welcomed the active participation of all countries and international organisations.
Thanks to the initiative's massive financial ambitions, it's likely to have a ripple effect on a number of regions. For example, the impact could be felt across Africa, although its significance in relation to other regions remains unclear. It could help the continent plug its infrastructure deficit, a necessary step for economic growth on the continent and in particular industrialisation.
Meeting of minds
This isn't the first attempt to revive the ancient trade routes. There have been attempts by the European Union, US, Russia and even India to reconstruct the ancient Silk Road that linked Asia and Europe in particular.
What makes China's attempt different is the commitment of President Xi, as well as the numerous agreements – such as the 130 transport pacts – it has already signed with partner countries along the route.
China made clear from the beginning that the initiative wouldn't get off the ground without widespread participation. As such, the summit was positioned as an opportunity to build consensus.
The overall plan aims to provide a commitment of some $1 trillion in future funding. And China used the summit as an opportunity to increase the Silk Fund from $40 billion to $100 billion.
China is using the Belt and Road initiative as an opportunity to position itself diplomatically on the global stage. This was clear from the summit which provided a platform for the country to amplify its voice on the world stage.
Over 50 countries took part. This included the presidents of Argentina, Chile, Indonesia, Russia, Switzerland, Turkey, Vietnam and Uzbekistan. Representatives of the United Nations, International Monetary Fund and World Bank also attended.
As scholar Gregory Chin explains in China's Bold Economic Statecraft, global relations are under constant negotiation. They are increasingly characterised by shifting alignments rather than fixed alliances.
China understands the opportunities presented by this state of flux.
Where does Africa feature?
Kenya's President Uhuru Kenyatta attended the summit, along with Ethiopia's Prime Minister Hailemariam Desalegn of Ethiopia, Egypt's Minister of Trade and Industry and Tunisia's Minister of Culture.
Kenya's presence was particularly significant because East Africa has been the main focus of the initiative on the continent.
[China loans Africa much less than you think (and four other lessons from a new database)]
While this may be of concern to other African countries, China is also supportive of Africa's homegrown development plan as set out in the African Union's Agenda 2063. There are clear synergies with the Belt and Road initiative that support greater connectivity.
As African countries have expressed interest, China has responded, at least rhetorically, in favour of their inclusion.
Yet this won't be enough. Support from African countries is key. And success depends on them providing adequate security to protect the investment environment.
More broadly, African governments will need to promote an enabling environment for projects to succeed, particularly if, as envisaged, the private sector plays a key role in Belt and Road projects.
This article was originally published on The Conversation. Read the original article.