Burundi's newest, biggest rebel group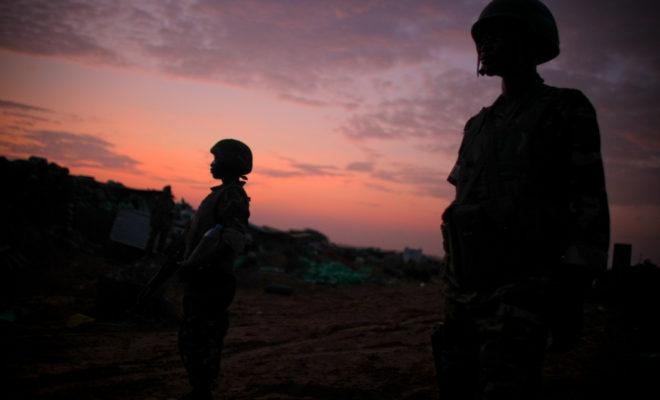 Who are the Popular Forces of Burundi? 
On 27 August, Burundian rebel leader Major General Jérémie Ntiranyibagira announced the reorganisation of the militant group, the Republican Forces of Burundi (Forebu). Via a recorded statement, he declared a name change to the Popular Forces of Burundi (FPB) and called on other rebels opposed to the government of President Pierre Nkurunziza to join them.
The FPB's leadership retains Ntiranyibagira and Lt. Col. Edouard Nshimirimana, who continues as second-in-command and de facto day-to-day leader. But notably absent is Godefroid Niyombare, the general who led the May 2015 coup attempt against Nkurunziza and was previously claimed to be Forebu's leader by Nshimirimana.
What does this development mean for Burundi and its rebel movements?
Forebu's origins
Forebu was founded following the failed coup in 2015 and was largely comprised of defectors from the Burundian military. Establishing itself in the eastern Democratic Republic of Congo (DRC) in December 2015, it also recruited from amongst Burundian refugees, particularly at the Lusenda refugee camp in South Kivu.
In the wake of the failed 2015 coup, President Nkurunziza purged the army. This policy disproportionately targeted those who had served on the government side in the Burundian civil war (1993-2006). In that conflict, a primarily Tutsi government fought against predominantly Hutu insurgent groups, one of which became Burundi's current ruling party, the CNDD–FDD. Consequently, most of those expelled, and who joined Forebu's ranks, were ethnic Tutsi, though the group remains ethnically mixed.
Forebu's internal struggles and the birth of the FPB
Forebu's reorganisation into the FPB likely reflects the group's internal political machinations.
Since May 2015, Niyombare has not been seen or heard, apart from in a sole telephone interview with Jeune Afrique this May. In that conversation, he claimed to regularly carry out clandestine visits to Burundi and the DRC. But in reality, Niyombare has probably been in exile – and possibly under de facto house arrest – in Rwanda or Uganda since late-2015.
FSB's new hierarchy indicates a shift of power away from Niyombare and other alleged "absentee" leaders such as Hussein Radjabu, ex-chairman of the CNDD-FDD turned opposition leader. It marks a shifts towards the commanders actually based with their fighters.
Indeed, in an interview with Jeune Afrique FPB spokesperson Adolphe Manirakiza claimed that "at least three personalities were disputing over the leadership": Nshimirimana, Radjabu, and Niyombare. "Those who were around Nshimirimana and those who challenged the leadership of Niyombare came together…to form the new FPB movement," he said.
Manirakiza's claim that Ntiranyibagira was appointed to lead the FPB as "the most senior of the group" suggests that Niyombare is not affiliated with the new outfit. It also seems that the FPB sought to distance itself from Radjabu, possibly over allegations he was involved in the arrest and torture of former Vice President Alphonse Marie Kadege in 2006. This was likely a source of resentment among Forebu's Tutsi fighters.
FSB also includes Hutu fighters, however, and Ntiranyibagira's appointment as overall FPB leader was probably intended to provide continued balance. Like Niyombare, Ntiranyibagira is a Hutu and former CNDD-FDD fighter.
Forebu elements that continue to follow Niyombare and not the FPB are probably in a distinct minority.
FPB and RED-Tabara
On 29 August, an unconfirmed statement by another Burundian militant group, Resistance for the Rule of Law-Tabara (RED-Tabara), praised the FPB's struggle. However, it indicated that it would continue as a separate group and denied that its fighters had defected.
This denial was directed against claims "circulating on RFI and certain social media". However, it may also have been made in response to claims made in a UN Group of Experts report published in August. That document cited several Forebu ex-combatants who said they were involved with RED-Tabara but left because they disagreed with the group's ideology.
RED-Tabara's political leader is believed to be Alexis Sinduhije, though he denies this. Sinduhije belongs to the opposition Movement for Solidarity and Democracy (MSD), a group he claims has been "demonised" for being "radicals". Many in Burundi see the MSD as being dominated by Tutsis. This may be additional context for FPB spokesman Manirakiza stressing Forebu's "political neutrality".
RED-Tabara's rise, decline, and eclipse by FPB
Several Burundian combatants captured in South Kivu during 2015-2016 told the UN Group of Experts that they were going to fight for Sinduhije and the MSD. These fighters claimed to have been recruited in Rwanda's Mahama refugee camp in May-June 2015 and given two months of military training by individuals wearing Rwandan military uniforms. This implies that in mid-to-late 2015 RED-Tabara was a recipient of Rwandan logistical support.
This backing seems to have decreased sharply by early-2016 though, probably as a result of public allegations against Rwanda. The fighting capacity of RED-Tabara in Bujumbura was also reduced by the deaths of a significant number of fighters in the reprisal killings that followed the 11 December 2015 attacks on three military camps. One well-placed Burundian source described the group as having been "crushed" in the city. Defections to Forebu will also have thinned RED-Tabara's ranks.
Forebu appears to have received some external support too. The UN Group of Experts reported that the rebels usually purchase their food from local Congolese and bring in other supplies across Lake Tanganyika. This suggests a level of collaboration with the Congolese military and President Joseph Kabila, who the Congolese opposition accuse of fomenting insecurity in order to excuse further delaying elections.
The Group of Experts also claimed Forebu "emerged as the most relevant Burundian armed group operating in the [DRC] by mid-2017" with 300-500 fighters. This strength has probably been largely inherited by the new FPB.
FPB's future
Rwanda's sensitivity to international allegations of militarising Burundian refugees was likely accentuated ahead of its presidential election this August. With Kagame now re-elected – with 98.8% of the vote – the Rwandan government is now in a stronger position to ramp up assistance to anti-Nkurunziza militants again if it wished to. If so, FPB would probably be the main recipient.
Niyombare's striking claim that Rwanda had neither interfered in Burundi nor supported his forces has also provided some plausible deniability against possible future accusations. Rwanda would also probably be able to count on tacit cooperation from the DRC as President Kabila seeks to maintain friendly relations. In response to this possible threat, Burundian security forces – as documented by the UN Group of Experts – have begun to supply weapons to Congolese Mai-Mai groups as proxies.
In early-2017, significant elements of Forebu reportedly relocated from South Kivu towards Uvira territory, closer to the Burundian border. Combined with increasing Rwandan facilitation, this would place the FPB in a position to stage increasingly frequent small arms and light weapons raids in Burundi's north-west and Bujumbura's outskirts.
With President Nkurunziza probably already working to change the constitution – not just to remove term limits, but also possibly to alter Hutu-Tutsi ethnic quotas and power-sharing arrangements – the FPB is not likely to find itself short of sympathisers and recruits for its cause.