Nigeria: Their election boycott fell flat. What now for the Biafra separatists?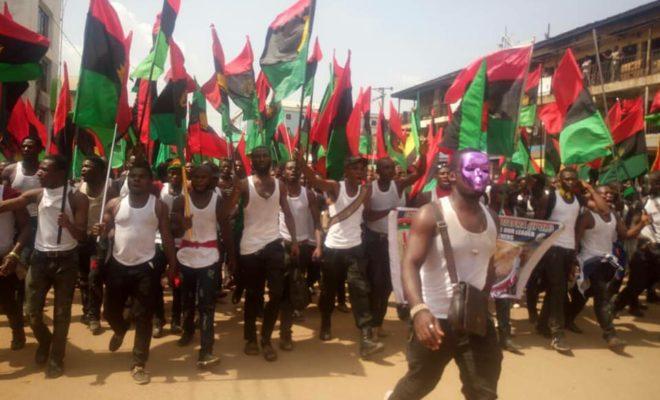 The Nigerian government claims the secessionist group IPOB is "dead and gone". Its supporters beg to differ.
When an influential secessionist group called on people to boycott Anambra state's election, many people expected the worst.
Ahead of the governorship poll on 18 November, the Indigenous People of Biafra (IPOB) insisted that no election would take place unless Nigeria's federal government agreed to hold an independence referendum for certain south-eastern states. A week before the election, IPOB supporters stepped up this campaign, marching on the streets and vowing to disrupt the election.
"If you vote you will die. Don't go out, stay in your house. If you vote on November 18, you will die," one of the protesters threatened in a video that soon went viral.
Nigerians therefore awaited the November poll with bated breath. IPOB has shown itself to be popular and its calls for a separate state of Biafra have significant support in the region. However, on the day itself, the process went ahead smoothly.
"The election was gladly peaceful", says Chinedu Asadu, a Nigerian journalist who covered the election. Shortly after the vote, the incumbent Willie Obiano was declared the winner by a comfortable margin.
What happened? And what does this mean for the Biafran secessionists' struggle going forwards?
[Nigeria: How to solve a problem like Biafra]
[Biafra 50 years on: Remembering, regretting, repeating history?]
No referendum, no election
It was under leader Nnamdi Kanu that IPOB originally vowed to disrupt elections. "If the Federal Government does not agree with us on a date for referendum, there will be no elections in the Southeast," he said in June. "We are starting with Anambra come November this year."
In July, a group of Biafra separatists confronted the Anambra governor at his church, chanting "No referendum, no election".
Since September, however, Kanu has been missing. Meanwhile, IPOB's strategy softened a little over time. "It wasn't unanimously agreed that elections won't be held," says political analyst Ifeanyi Onyekere.
The promise to disrupt elections thus shifted into a less radical demand for a boycott. Through a combination of door-to-door mobilisation, SMS messaging and printed flyers, IPOB tried to persuade people to stay away from the ballot box to show their displeasure at the government. A couple weeks before the vote, police raided a printing press where IPOB members were producing pamphlets with messages such as "call for referendum is not call for war" and "anyone who insists on participating in the Anambra election will be doing so at his or her own risk".
At the same time, many IPOB supporters continued to issue threats around what might happen on 18 November.
On the day itself, there was some hesitation amongst voters. "In some polling booths, voters came late. In some places accreditation of voters started two three hours after the proper election schedule; they wanted to know that the place is safe before voting," says Asadu.
However, in part due to the heavy security presence, the process occurred with little incident. Turnout was low at a mere 22%. But this was not unusual. In 2013, turnout was just 24%.
Total failure?
In the wake of failed boycott, Nigerian Information Minister Lai Mohammed claimed that IPOB is "dead and gone" and that the successful election was its death knell. "I think what that proved is that IPOB does not represent the good people of Anambra state or any state in the south east," he said.
Onyekere agrees the boycott was "a total failure"and suggests that the group's momentum may be fading in the absence of Kanu. Following successful elections in Anambra and also Enugu earlier in November, he says IPOB may "die a natural death".
However, the analyst claims that the "majority of this population" still backs the idea of Biafran independence even if they are not necessarily official IPOB supporters.
Sopuru Amah, a registered member of the group, similarly emphasises the campaign's ongoing support. He attributes the failure of the boycott not to IPOB's waning popularity, but disagreement over this particular strategy.
"If someone decides to vote will you stop him?" he says. "In a family like this, there's no way you'll expect everyone to reason the same way. Some people love the idea of Biafra but they didn't buy into the idea of boycotting the election."
Amah also disagrees with the suggestion that IPOB cannot survive without its charismatic leader. "When Kanu was in prison [from October 2015 to April 2017], IPOB was doing well and he has established a well-structured leadership who can pilot IPOB's affairs in his absence," he says.
Although its protest around the Anambra election fell flat, Amah warns against writing off the group just yet, claiming more actions are in the offing.
"We are under a command and they are the ones to tell us what to do next," he says.