Frenemies for life: Has the love gone between Uganda and Rwanda?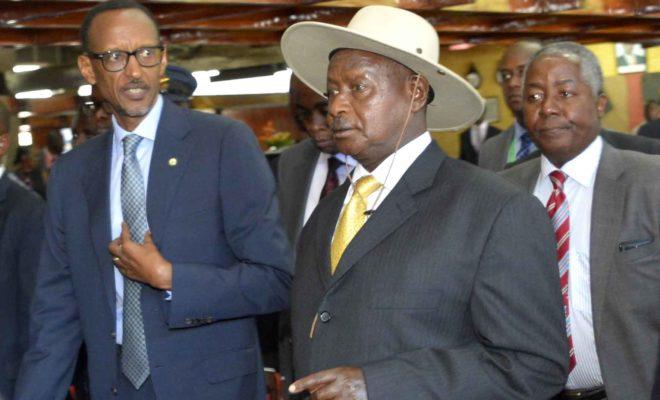 Uganda's arrests of alleged Rwandan agents has sparked rumours and theories that all is not well between the two neighbours. 
On 27 October, a dramatic sweep saw a number of senior Ugandan police officers arrested on suspicion of being part of a Rwandan sleeper cell. The Chieftaincy of Military Intelligence picked up at least seven suspects alleged to have colluded with Kigali to forcibly repatriate a Rwandan refugee four years ago.
In 2013, there had been questions over how Lt. Joel Mutabazi, a former presidential bodyguard, had been returned to Rwanda where he was later given a life sentence for treason and terrorism. Allegations swirled over whether Ugandan security agents had been involved. However, little action was taken until this October when numerous officers were detained.
These arrests raise a host of questions, not just around the curious case but also its wider implications and the timing. Uganda and Rwanda's relations have been outwardly fairly warm in recent years. This incident threatens to undermine them, or perhaps it signals that they are already under greater strain than previously recognised.
Frenemies for life
Historically, the relationship between Uganda's President Yoweri Museveni and Rwanda's President Paul Kagame has gone through several highs and lows. In the 1980s, the two were brothers-in-arms in the rebel National Resistance Army (NRA) that brought Museveni to power in 1986. In the early-1990s, the Ugandan president supported Kagame in taking power in Rwanda.
But this alliance was threatened during the Second Congo War (1998-2003) when the two countries backed opposing rebel groups. The two armies engaged in deadly clashes and tensions threatened to spill over into war.
Over time, however, the two nations gradually reconciled. This was partly thanks to the diplomatic efforts of Richard Kabonero, who was appointed as Uganda's ambassador to Rwanda in 2006. Following his arrival in Kigali, Kabonero quickly emerged as a smooth operator with an affinity for organising social events. He was reportedly well-liked by Rwanda's intelligence community and political elites.
By 2011, the relationship had rediscovered its closeness, which was put on public display when Museveni donated $200,000 to a school project in Rwanda. Kagame then visited Uganda as the two leaders gifted each other cattle. In 2012, Museveni awarded Kagame three of Uganda's top national honours.
Fraying relations
More recently, however, this warmth seems to have dissipated. On various fronts, tensions have arisen between the two countries.
Regarding Burundi's ongoing crisis, for example, the neighbours have been running in different directions. It is widely believed that Kigali favours regime change, with Rwanda being accused of arming and supporting Burundian rebels. They deny these allegations. By contrast, Kampala has stood firmly by the Burundian government, with Museveni extending a hand to President Pierre Nkurunziza.
There have also been numerous disputes regarding regional integration and cooperation. Uganda has shifted some of its regional infrastructure priorities towards South Sudan at the expense of Rwanda. It has also been perceived to snub a frustrated Kigali on several occasions, such as over its failure to construct an electricity transmission line to its southern border despite Rwanda committing to the project.
Internally meanwhile, Uganda has conducted numerous reshuffles that have reportedly elevated figures sceptical of Rwanda. Particularly in security and intelligence agencies, individuals thought to be sympathetic to Rwanda have been retired or transferred, while more hostile officials have been promoted. This May, Ambassador Kabonera was transferred from Rwanda to Tanzania.
Rumour mill
According to some observers, it is not surprising that Uganda's new security heads have been taking action against alleged Rwandan agents. It is also notable that two of the senior officers apprehended, Nixon Agasirwe and Joel Aguma, are widely seen as close associates of Uganda's police chief, Kale Kayihura. Kagame is a close friend of Kayihura and was the best man on his wedding day.
In security circles, many believe that Kigali wants Kayihura to one day take over as president. The widespread rumour prompted Rwanda's ambassador to deny it had any interest or role in Uganda's succession this October when rumours of tensions were already afoot.
The arrest of the alleged Rwandan spies by Uganda has sparked off a media frenzy, largely driven by Uganda's tabloid media. On 21 November, the police counter-terrorism unit raided the offices of Red Pepper and arrested eight of its senior managers and editors. The previous day, the newspaper had published a front-page story alleging Museveni was plotting to overthrow Kagame. Despite suggestions they would be charged with treason, the defendants were charged with offences related to libel, endangering national security and disturbing the peace and privacy of President Museveni, his brother Gen. Salim Saleh and Security Minister Tumukunde.
On 2 December, a report in The Standard alleged that Uganda's intelligence services are actively overseeing a recruitment drive by a Rwandan rebel group which seeks to destabilise Kigali.
A sign of the times
The Ugandan government has attempted to play down the October arrests of the police officers and their effect on its relationship with Kigali. "We are just clearing up our house, which is in line with the expectations of the Rwandese government," said Uganda's Foreign Minister Henry Oryem Okello.
His colleague Patrick Mugoya, the Foreign Affairs Permanent Secretary, later reasserted: "The Ministry dismisses, with contempt, allegations carried by any media publications or platforms to the effect that relations between Rwanda and Uganda are anything but strong and cordial."
But despite this assurance, analysts point out that accusing a neighbouring government of conducting illegal actions on one's territory is no small matter. Moreover, reports and incidents since October have added to a sense of alarm.
It is possible that the recent events relate most directly to the issue of Rwandan exiles. Uganda is currently basking in the glory of international reports praising it as "the world's best place for refugees" and is reluctant to deport granted asylum seekers. Meanwhile, Rwanda sees its exiles across the border as a security threat. (In 2009, the two countries' foreign ministers signed an extradition treaty that was ratified in Rwanda, but still languishes in Uganda.)
However, many insiders and observers say that there is a deeper dynamic at work. After a few years of seemingly positive relations, the arrests may be a sign that relations between the old brothers-in-arms are fraying once more.