Zimbabwe: How impeachment would actually work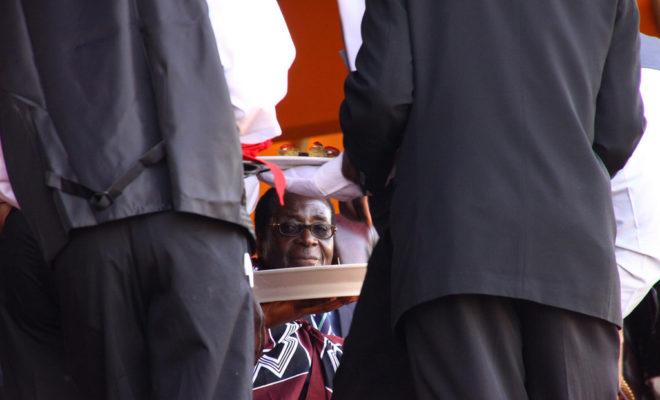 Impeaching President Mugabe will not be a quick or a simple affair.
Now that ZANU-PF has resolved to commence impeachment proceedings against Zimbabwe's President Robert Mugabe, it is important to examine this constitutional process. There is a great sense of expectation among the people, fuelled by high levels of desperation to see Mugabe's departure after 37 years in power. However, it is important to shed light on what this process entails. While it is desirable to fast-track the procedure, there are certain fundamental matters of law and principle that cannot be side-stepped. These make the procedure more complicated than has previously been suggested.
Let us first examine the stages of the impeachment procedure:
First, there must be a resolution supported by a simple majority of the total membership of parliament recommending the removal of the president on one or more grounds stated in section 97 of the Constitution. These grounds are:
a. serious misconduct;
b. failure to obey, uphold or defend this Constitution;
c. wilful violation of this Constitution; or
d. inability to perform the functions of the office because of physical or mental incapacity.
A simple majority of the total membership of parliament means members of the National Assembly and the Senate must vote together sitting as a joint body. The resolution must be supported by more than 50% of the combined members of the National Assembly and Senate.
Second, once the first resolution has been passed, parliament's Committee on Standing Rules and Orders must appoint a joint committee of both the National Assembly and Senate consisting of nine members. The membership of this committee must reflect the political composition of Parliament. In other words, it must have proportional representation of the parties represented. In this case, that means it must have representatives from ZANU-PF, MDC-T and the other MDC formation. This committee must carry out the investigations to establish whether there is a justifiable ground for removal of the president.
Third, once the committee has completed its investigations, it makes a recommendation to parliament. If the recommendation is that the president must be removed, both the National Assembly and Senate must sit together in a joint session to vote on the motion of removal. This time, the motion of removal must be supported by at least a two-thirds majority of the total membership of MPs and Senators. This higher threshold reflects the gravity of removing the president.
[Power to the party: Zimbabwe's coup isn't a revolution but a consolidation]
["Only the short-sighted would say we've been liberated": Life continues amid Zimbabwe's political limbo]
[Zimbabwe: Coup or not, this is the end of an era]
What are the implications of all this?
First, while most people would prefer the these actions to be fast-tracked, this process cannot be achieved in 24 hours or even a week as has been suggested by some. The motion to trigger an investigation may be easy to get because it requires a simple majority, but the investigation by the committee of nine is not a few hours' or even one week affair. An investigation will have to consider and protect the rights of the investigated person: in this case, the president.
It is important to note that this is the first time that the Zimbabwean parliament will be carrying out this procedure. It will have to set up clear rules, guided by the constitution, the declaration of rights, and principles of natural justice. It can also learn from experiences in other jurisdictions. As experiences elsewhere demonstrate, impeachment proceedings are not a simple or quick affair. In crafting these rules, Zimbabwe must be guided not by emotions or the prevailing attitude towards Mugabe, but by tried and tested principles. Whatever parliament does now will set a precedent for the future.
Second, the requirement for a committee of nine and the process of investigation are mechanisms designed to ensure the process of removing the president is fair and in accordance with constitutional rights and principles of natural justice. This includes the right to a fair hearing, the right to be heard, the right to fair representation, and the right to defend oneself. In other words, the word of the accusers is not enough to trigger a vote of impeachment.
Should the president's constitutional rights and principles of natural justice be flouted, he may well challenge the process in a court of law. If parliament does not want to be embarrassed, it will have to adhere to recognised rules and respect the rights of the accused. He will have to be entitled to challenge evidence against him and cross-examine the witnesses. He too may have his own witnesses. If the president is alleged to be unable to perform his functions because of physical or mental incapacity, that means means physical, medical or mental tests must be carried out, and presumably by more than one expert.
One of the grounds being cited against Mugabe is that he failed to adhere to due process when he sacked his Vice President. It would be ironic if his accusers now do not recognise his own right to due process.
The implications of all this are that this may well take more time than is being suggested. It could go on until and beyond the ZANU-PF Congress in December. Mugabe could therefore use these constitutional and legal safeguards to buy more time until the end of his term next year, by which point the question of impeachment could well be academic.
It is possible, of course, that the commencement of impeachment proceedings is designed not to follow the long course of the law, but is rather a tool for political purposes. In this case, it could work well in that it adds more pressure on Mugabe. It is possible he might feel daunted by the prospect of an investigation. Mugabe has never liked being questioned by anyone, let alone by MPs.
One of the conspicuous features of the system that he created since he became Executive President 30 years ago is that he has never had to answer to parliament. Under the new constitution, he can be invited to answer questions in parliament but he is not obliged to attend. Ironically, when the constitution was being written, we pushed for a provision that would require the president to be directly answerable to parliament and to attend before it when called, but it was the ZANU-PF politicians who are now trying to get rid of him that resisted that clause.
Still, I believe this is as good an opportunity as any for parliament to use its power to invite him to come and answer questions. He will probably use his right to refuse, but it will embarrass him before his peers in Africa who have been defending him.
The third issue is that since the nine-member committee that carries out the investigations must include members of the opposition, ZANU-PF's Patrick Chinamasa was myopic and imprudent to dismiss the role of opposition parties in this process. The opposition could easily drag and derail this process if ZANU-PF chooses the path of arrogance as shown by Chinamasa. The politician ought to eat humble pie, retract his unwise statements, and apologise to the opposition and people of Zimbabwe. But Chinamasa is not the only culprit. There are more ZANU-PF characters who have allowed the illusion of success to affect their vision and have begun to conduct themselves in typically arrogant fashion.
In conclusion, while the political purpose of impeachment proceedings is not in doubt, the legal process is by no means quick and simple. Parliament can, of course, regulate its own affairs and may expedite proceedings, but it is also obliged to act in accordance with and to protect constitutional rights.
Mugabe may be undesirable to many people, but he too is entitled to those same rights provided for under the constitution. He may have denied many people access to these rights during his long tenure, but if he asserts them, the courts will probably move to protect them. The involvement of courts would delay the process as the pace of justice in Zimbabwe tends to move at the pace of a tortoise. Still, those pushing for his removal know that they are also creating a precedent. They won't want to create one that will come back to haunt them. The impeachment proceedings will be a political humiliation for Mugabe, but it is also important to keep public expectations in check.
This article was originally published here at BSR.