"We are here": The soundtrack to the Oromo revolution gripping Ethiopia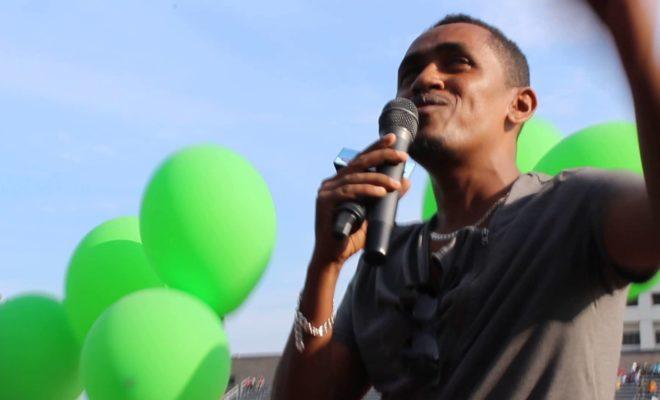 Far from being a footnote in the Oromo struggle, musicians like Haacaaluu Hundeessa have been its centre of gravity.
With the appointment of Abiy Ahmed as chair of the ruling coalition, Ethiopia is set to have an Oromo leader for the first time in recent history. This is in no small part thanks to brave and sustained protests by ethnic Oromo youth.
For nearly two and a half years, activists have defied brutal government suppression that has seen over a thousand people killed and tens of thousands arrested. Mostly led by the Oromo and Amhara, who together make up two-thirds of the 100 million population, demonstrators have endured the imposition of two states of emergency and a brutal crackdown.
Now, for their pains, they have overseen the resignation of Prime Minister Hailemariam Desalegn. And they will soon witness the assent of a young and popular Oromo leader as Ethiopia's next prime minister.
When historians look back at this period, they will see how persistent protesters reconfigured Ethiopia's political map in just a couple of years. They will note how Oromo politics was forced from the distant periphery to the very centre of affairs. And they will observe how the passionate Oromo youth – known as the Qeerroo – drove this change.
In all this, however, one thing that should not be overlooked is the critical role played by Oromo musicians and artists. Through their work, they have mobilised scattered marginalised publics and helped create a politically conscious, defiant, and resilient generation. They have tapped into the transformative potential of subjugated memories and experiences, disrupted official histories, and altered the people's very relationship to power.
Oromo music, the struggle's centre of gravity
Oromo music and concerts have rarely been strictly musical. They have always been sites of political agitation, cultural self-affirmation, and spiritual rejuvenation, drawing together audiences who share an unassailable commitment to the Oromo cause.
Activist stalwarts have provided the conceptual architecture and strategic direction of the struggle. But Oromo artists' poignant and powerful lyrics have given voice and significance to the group's insufferable indignation. When their political leaders have failed, artists have given new meaning to the agonies of defeat. When they have prevailed, artists have amplified small victories to inspire whole generations.
Far from being a footnote in the history of the Oromo struggle for freedom and justice, musicians, poets and creators are its centre of gravity – the signature tune and the definitive sound of the Oromo revolution.
"We are here"
Amongst the many Oromo artists to have played a role in recent events, one musician and one performance stands out.
On 10 December 2017, the capital Addis Ababa staged the biggest Oromo concert it had ever seen. It was held to raise humanitarian funds for the over 700,000 Oromos displaced by violence in the east. But the event held a much deeper significance too. It was not only the most symbolic, defiant and spectacular Oromo concert ever broadcast live by Oromia Broadcasting Network (OBN). It also featured an unprecedentedly large number of senior government officials, a sign of the slow but tectonic shift taking root in Ethiopian politics.
In the concert, a diverse cast of artists performed, leading up to the kaleidoscopic set by Haacaaluu Hundeessa. Through 11 minutes of heart-shredding ballads, the young singer delivered a show that was awe-inspiring and painful, honest and complex, impassioned and subtle. Working through themes of marginality, vulnerability and resilience, he articulated the distinct Oromo experience with raw clarity.
Haacaaluu has given sound and voice to the Oromo cause for the past few years. His 2015 track Maalan Jira ("What existence is mine"), for example, was a kind of an ethnographic take on the Oromo's uncertain and anomalous place within the Ethiopian state. This powerful expression of the group's precarious existence quietly, yet profoundly, animated a nationwide movement that erupted months later. Maalan Jira became the soundtrack to the revolution.
In October 2017, Haacaaluu released Jirraa ("We are here"). In contrast to his previous more sombre hit, this song was a statement of endurance, resilience, and self-affirmation. It celebrated transformations within the Oromo community and fundamental shifts in Ethiopia's political landscape. It embodied a newfound collective optimism, a feeling that Oromo culture is no longer in jeopardy, and a sense that the Oromo society is finally in the middle of a robust ascendancy.
"Closer to Arat Kilo"
As many have pointed out, art can have a transformative power that a political debate or summit cannot. In her book Utopia in Performance, for example, American scholar Jill Dolan describes how a performance can have an effect "that lifts everyone slightly above the present, into a hopeful feeling of what the world might be like if every moment of our lives were as emotionally voluminous, generous, [and] aesthetically striking".
Haacaaluu's December show did just this. As soon as he occupied the stage, the scene immediately felt magical. His opening greetings – "ashamaa, ashamaa, ashamaa" – electrified an audience who understood his use of the traditional Gerarsa repertoire and its unconscious grammar. As he strode lion-like around the platform, he evoked a rare outpouring of exuberance in his adoring audience. And speaking at a moment in which the Oromo protests had been building momentum for over two years – and, unbeknownst to the crowd, just months before one of their own would become chair of Ethiopia's ruling coalition – Haacaaluu repeatedly asked the audience Jirtuu ("are we here?"), driving everyone justifiably nuts.
In under a minute, the singer had created what Dolan calls moments of communitas, "resulting in a sudden and deeper insight into the shared process of being in the world."
As the performance progressed, Haacaaluu escalated tensions, asking the audience how long they would have to wait for freedom. He lamented the absurdity of a marginalised majority, criticised a rigged system, and expressed his yearning for unity, peace, and justice.
In switching between articulations of precarity and resilience, Haacaaluu challenged the audience and the Oromo leadership in the gallery, which included Abiy Ahmed, to make bold moves befitting of the Oromo public and its political posture. He urged his audience to look in the mirror, to focus on themselves, and decolonise their minds. We are, he said, closer to Arat Kilo, Ethiopia's equivalent of Westminster, both by virtue of geography and demography.
The Oromo People's Democratic Organisation, the party in the ruling coalition that put Abiy forward, thankfully followed Haacaaluu's advice. After PM Desalegn announced his resignation, it fought tooth and nail to secure the position of the Prime Minister. After Abiy's imminent confirmation, the first chapter of a journey for which Haacaaluu has provided the soundtrack will be complete.
The 41-year-old Abiy will be taking over at a highly fractious and uncertain time. He will continue to face immense resistance from the deep state and the security forces that stand to lose from democratic opening. In confronting these challenges, he should remember the deeper meaning and significance of Haacaluu's lyrics and monumental performance.
[Wax & Gold: The tightrope challenges facing Ethiopia's Abiy Ahmed]