LAPSSET: Will a new highway open up the long-neglected Garissa?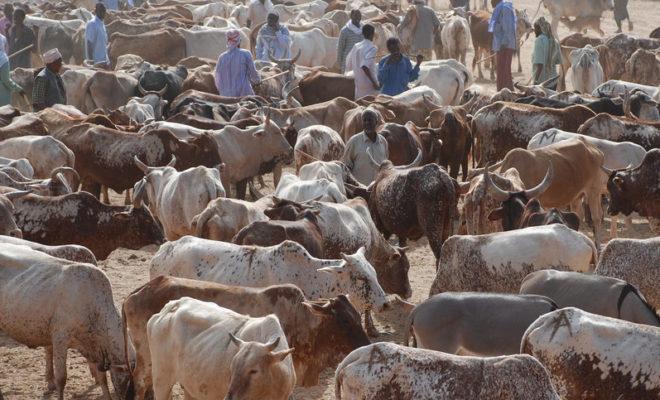 Many in the area are upbeat about the new infrastructure project, but concerns over security and land remain.
This is the second part in a series What does "development" actually look like? The case of LAPSSET looking into the effects of LAPSSET on local communities along its proposed route in: Lamu, Garissa, and Turkana.
After the April 2015 massacre in which Al-Shabaab militants shot dead 147 students and staff at Garissa University College, the town went into lockdown. Kenyan Defence Forces (KDF) were deployed, the modest flow of investment dried up, and travel advisories warned foreigners to keep away.
Isolation has long been the norm for Kenya's north eastern drylands, now administratively divided into the counties of Garissa, Wajir and Mandera. At independence, this region's sparse population, mostly made up of ethnic Somali pastoralists, did not want to merge into the new nation. They fought a three-year insurgency to join neighbouring Somalia instead. Taking its cue from imperial Britain's handling of the Mau Mau rebellion, Jomo Kenyatta's government responded with forced "villagisation" and "collective punishment".
This was followed by decades of neglect. Today, so few youngsters finish high school in the north east that Garissa University College, now encircled with walls and razor wire, has to rely on intake from elsewhere in Kenya. "Development has always been late here," says its principal, Professor Ahmed Osman. "Roads have not been constructed to Mandera after 60 years. Nothing has changed for us."
Things may now change, however, with the construction of a new highway. As part of the $25 billion LAPSSET (Lamu Port—South Sudan—Ethiopia) project, a major road will stretch from the port in Lamu to Garissa. It will then continue to Isiolo, which was finally linked to Ethiopia by a tarmac road in 2017. A South African consortium has been contracted to build the 580km highway, with an expected investment of $620 million.
Garissa's business and political leaders are upbeat. "LAPSSET will open the market for goods from the coast. We will have more investment, more integration, people coming," enthuses a local government official. Omar Abdi Gab, who heads the Garissa Chamber of Commerce, is working on a brochure to show "we have mineral resources, especially gypsum and coal, where we can now invest". "There is a lot of potential," he says.
Garissa town is set for growth, albeit from a low base. For now, its dilapidated centre features a row of stores selling khat, but modern commercial buildings are tentatively appearing. Extensive land on the outskirts of town has already been divided neatly into plots ready for when the urban population of around 65,000 people starts to expand.
Belonging and security
For the county to thrive, however, Omar Abdi Gab points out that one priority remains. "The main issue is security; nothing can be done without it," he says.
In 2016, security fears prompted French oil giant Total to abandon its plans to build an oil pipeline through northern Kenya. Instead, it decided to export its oil from Uganda via Tanzania. Kenya is therefore now hoping to build its own pipeline along the LAPSSET corridor. This would be used to transport oil discovered in the Turkana region onto Lamu.
This conduit would make an appetising target for terrorist attack. But Victor Nyakachunga, a communications officer with the national LAPSSET Authority, claims the situation is sorted. "We had an Israeli consultant doing a master security plan for the whole corridor, using technological systems to track any security threat," he says.
Garissa's District Commissioner, James Kianda, who oversees the county's security, also insists things are under control. "KDF is here and they are bonding very well with the community. Any emergency that arises, they are there to support, and the community are participating in security committees." An SMS platform has been established through which locals can post alerts warning of suspicious activities.
Garissa's security threats, however, are highly intricate and changeable. They remain inseparably connected with neighbouring Somalia as well as unresolved issues of belonging and identity.
It is notable that Garissa's largest conurbation is not the county town, but Dadaab refugee camp. First established in 1991, the site sheltered up to 500,000 refugees from civil war and drought in Somalia at its peak. In 2016, the Kenyan government announced it would close the camp, alleging that al-Shabaab uses it as a recruiting ground and transit point for weapons. The decision was rescinded after negotiation with the UN Refugee Agency, whereupon some residents were relocated to Kakuma, in Turkana, and a programme of voluntary repatriation was intensified. Dadaab's now population stands at 235,000.
According to an official in Kenya's Refugee Affairs Secretariat, security in the camps is not good. "Even me, I cannot feel free to walk about without protection. Even NGOs that work there have to have protection," he says.
The same source, speaking on condition of anonymity, also claims that around 40,000 camp residents are not, in fact, Somali nationals, but Somali Kenyans. Bare Adan Kerow, programme officer with a Garissa based NGO Haki na Sheria ('Justice and Law'), explains that poverty and drought have led many locals to claim refugee status to gain food and shelter. But now, he says, they are struggling to regain Kenyan citizenship.
That means that thousands of young people born into faux refugee families remain stateless and without ID cards. Without these, they cannot work, study or travel. Buses do not leave Garissa for Nairobi until armed police have checked all passengers' documents.
At the same time, many in Dadaab feel unfairly targeted by security forces. According to Yussuf Bashir, one of Haki na Sheria's founders, there is a "lingering tendency for government to let the security forces loose on the population when there's incident". Feelings of frustration, restlessness and resentment abound.
"Land is an emotive issue"
Another challenge for the LAPSSET road lies in persuading pastoralists to relinquish land for the project.
"Land is an emotive issue here, but the land is not documented, and even as we speak people are making claims – ancestral claims, tribal claims, clan claims," says Fatumah, a government National Lands Coordinator based in Garissa. "We are trying to talk about spatial planning over that area, but for the last 30 years they have never seen any government system. The attitude people have is that there has been no government."
Her colleague adds that there is "a massive land grab going on", largely driven by "civil servants and people with money."
In theory, the road to Lamu port could be a boon for cattle owners and help forge a route for Garissa's halal meat products to reach Arab export markets. But, as Omar Abdi Gab points out, the Kenya Meat Commission currently only licences slaughterhouses in Nairobi from which live animals are shipped. Developing a local industry, with local benefits, will require new policy and new standards.
Gab adds that nomadic pastoralism is "a bit hectic". He would prefer to see pastoralists settle into "animal agro-businesses" in areas close to the Tana River. "If you achieve that, you get away from a situation where someone may have 200 animals, and then the next time you see him he is on the street and has nothing," he says.
This is a common view among government planners and development practitioners. When the state has offered pastoralists so little for so long, however, it is not surprising that they should cling fiercely to traditional practices.