Why it's farcical that UN-Habitat's first assembly is being held in Nairobi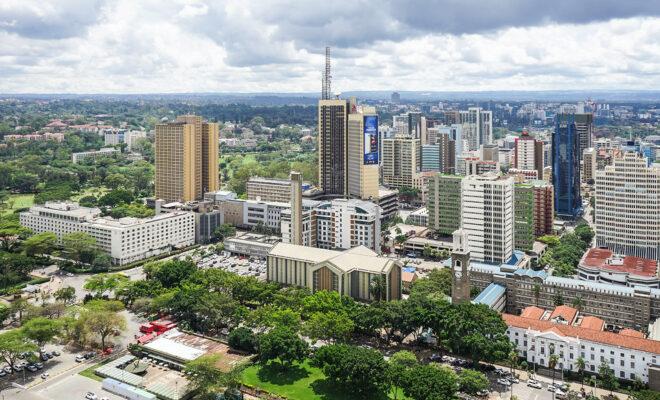 Almost all the new developments that have come to define the Kenyan capital's fast-paced growth are technically illegal.
This week, the first ever UN-Habitat Assembly has been taking place to discuss sustainable cities and the programme's New Urban Agenda. These discussions are vital. By 2050, more than two-thirds of the world's population – or about 6.5 billion people – will be living in urban areas. This trend will create several challenges for cities, not least Nairobi, where the gathering is being held.
In one sense, it is fitting that the inaugural UN-Habitat Assembly is happening in Nairobi. Kenya's fast-paced capital is an international hub, hosting a UN Office, the World Bank, and various multinationals. The sight of new skyscrapers enmeshed in green scaffolding and cranes breaking the skyline is becoming a permanent part of the cityscape. And Kenya – as well as Africa more broadly – is home to some of the world's fastest growing cities.
But there is an elephant in the room. Almost all of the new developments that have come to define Nairobi's fast-paced growth are technically illegal. According to current zoning laws, buildings are not permitted to reach higher than four or five floors in most areas of the city, with additional restrictions on how tall a building can be given the size of the plot on which it stands. And yet, 15- or even 20-storey skyscrapers have stood in such zones for years. Despite attempts to update them, the city's zoning bylaws remain obsolete and largely ignored. In this sense, the choice of Nairobi as the site for a meeting on an "urbanisation action blueprint" is almost farcical.
This lack of regulation has also allowed the construction of buildings with weak structural integrity in Nairobi. Several structures have collapsed in recent years, leading to dozens of deaths, mostly in low-income areas. Meanwhile, the city's corrupt "pay to play" approach has exacerbated existing urban problems around issues such as flooding, traffic, sewage management, and waste collection. Overlooking the fact that Nairobi lacks the legal infrastructure to plan and limit development, protect citizens, and provide public services not only acquits the government of its responsibility but ignores the need to find solutions that stem from these failures.
From racial to class segregation
One current example of Nairobi's approach to urban planning is the case of Cytonn Towers. This is a planned set of three 35-storey skyscrapers – rivalling those in Nairobi's central business district in terms of height – in Kilimani, a district which, until recently, was populated mostly with single-home plots. The towering blocks would be connected by a sky bridge, which would also host "Nairobi's highest suspended restaurant".
On paper, however, Cytonn Towers is illegal. Kilimani district's zoning laws do not permit the construction of buildings of such a height, despite what the company claimed in public meetings in 2018.
In the case of Cytonn Towers, residents' associations and organisations in the relatively affluent Kilimani have been able to challenge the project and stall its progress in court, for now. But for the city's poor, the situation can be more precarious and the stakes even higher. These marginalised populations – the very people UN-Habitat was established to serve – are particularly vulnerable to the lack of transparency, flouting of bylaws, and rubber-stamping from authorities that characterise Nairobi's development. Urban planner Constant Cap goes so far as to suggest that urban plans often conflict with – rather than serve – the working-class Kenyans that make up the majority of Nairobi's population.
For one, huge numbers of Kenyans use matatus to get in, out, and around Nairobi. Yet this privately-owned "public transport" system of minibuses is often excluded from urban plans and seen as a cause of traffic rather than the means of mobility for many Nairobians. For one chaotic day in December 2018, matatus were even banned from the central business district by Nairobi County Governor Mike Sonko.
[30% of trips in Nairobi are made by minibus. Why were they banned?]
The city council also frequently clashes with vendors and hawkers, who are treated as a scourge on the tidiness of streets. And, of course, authorities often demolish residences in informal settlements with little regard to due process. In the demolition in Kibera last year, for instance, over 2,000 families were displaced with nowhere to go, despite the agreement that a resettlement scheme be implemented prior to the knocking down of any homes.
The last comprehensive urban plan that Nairobi gazetted and implemented was the 1948 Colonial Master Plan, which segregated the city along racial lines. Since Kenya achieved independence in 1963, little has changed in the way of urban planning except that racial divisions have given way to class divisions.
Lack of law and order
One of the tenets of UN-Habitat's New Urban Agenda is the "strengthening urban governance". This includes streamlining policy frameworks with local and national governments, and the agency has previously worked on these issues with the likes of Egypt in 2014-15 and Rwanda in 2015.
In Kenya, however, UN-Habitat's 30 projects undertaken since 2013 – of which 19 are complete – have focused on other matters. Valued at a total $14.2 million, these initiatives range from an "integrated smart septage management system" powered by an "internet-of-things ultrasonic device"; to youth resource centres across several informal settlements; to the enhancement of public spaces across the city. Perhaps the UN-Habitat best-known project is its Kenya Slum Upgrading Programme, a collaboration with the Government of Kenya, many of whose resulting constructions are now being rented out rather than lived in by its intended residents.
These projects may relieve some of the burden from a lack of public services, but they do little to address the deep inequalities inherited from the colonial administration. Ignoring the lack of agency – and thus accountability – that government agencies have in urban planning, they fail to connect the mechanics that create slums in the first place with crises that emerge from the flagrant flouting of zoning laws.
UN-Habitat is not ultimately to blame for Nairobi's urban problems. But as it holds its inaugural assembly in the Kenyan capital with no hint of irony, it is inescapable to note how its approach, which simply attempts to facilitate relationships between "stakeholders", perpetuates the kind of neoliberal urbanism that fails to hold governments accountable.