Our solidarity as Muslims must be with Qatar's migrant workers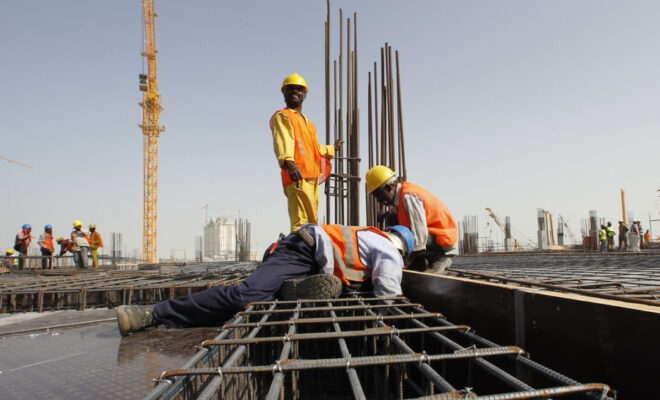 Oppression and abuse is un-Islamic. We should call on FIFA and Qatar to compensate workers and their families for the abuses they sustained.
During a presentation I was giving on the plight of Ugandan migrant workers in the Gulf a few years ago, one observer furiously called me out for criticising Qatar. Convinced that such criticism was a Western plot to deny a Muslim country World Cup hosting rights, he felt betrayed to see a fellow Muslim exposing a brotherly country. According to him, wrongs by fellow Muslims should be concealed in public and any criticism should be shared privately.
The event was part of the annual Ramadan seminars organised by the Uganda Muslim Youth Assembly (UMYA), a leading public forum that has helped mentor many Ugandan politicians and intellectuals. I am a product of this group and have been a member since my student days at Makerere University. While I had previously presented in these seminars, my newfound activism on migrant rights, including authoring two books, was ill-received by my peers who took to the podium to disapprove of my criticisms of Qatar, Saudi Arabia and the UAE.
I recognised that many were reacting on the basis of their good faith and felt they must unconditionally defend a brotherly nation, regardless of the circumstances. As such, my response also came from a verse in the Quran (surah 58:9) in which God urges Muslims to converse on righteousness and piety, and not engage in mischief and oppression. I pointed out that oppression of migrant workers met the standard expressed in the verse, adding that there were also poor Muslims dying in the Gulf states. They, too, deserved their own Islamic brotherly defence, which should not be reserved for the privileged elite.
After Qatar secured the World Cup bid, Uganda stepped forward to meet the rising labour demand. Ugandans worked as security guards, porters, construction labourers and domestic workers. Qatar-based companies flocked to Kampala to recruit Ugandans.
But familiar scenes also re-emerged. Many Ugandan workers returned in coffins, with incapacitating life-long injuries, or without their full salaries. My WhatsApp was inundated with news of the dead and subsequent fundraising efforts to cover their repatriation costs to Uganda.
Philips Kule, a security guard employed by Compass Qatar, collapsed and died at work in August 2021 after exposure to Qatar's intense summer heat. His death certificate noted that he died of acute heart failure but not why his heart failed. His body finally arrived in Uganda this April after enough money for repatriation was raised. By contrast, the remains of Reagan Tabaluka, a delivery worker who died in a motorbike accident in August while working, are still stuck in Doha due to insufficient funds. They are among thousands of migrant workers who have died in Qatar since 2010, many from unexplained causes leaving their families uncompensated.
Many well-intentioned Muslims rush to defend Qatar and other Gulf countries, believing that the bonds of their religious brotherhood are strong enough to sustain kindness and assurance for every Muslim to be cared for during adverse conditions. Qatar and FIFA are adept at exploiting these dynamics to label any criticism as Islamophobic. Yet the reality is that Qatar has not ensured the Islamic principles of dignity, justice, and fair working conditions for migrant workers, including the Islamic hadith: "Pay the labourer his wages before his sweat dries".
I worked as a Muslim journalist in Qatar for many years and, to the surprise of many, I lived in unhygienic, squalid accommodations like the workers whose stories I wrote about. My journalist's salary barely covered the high living costs of Doha. I stayed in the Mattar Qadeem area, and while it was not a labour camp, it was home to many low-paid workers in dilapidated villas. Sometimes, a room would be shared by up to ten roommates, sleeping on bunk beds.
Our small villa housed approximately 50 people. As the kitchen was turned into a bedroom, we used a small veranda to cook meals using propane gas cylinders. There was always a risk of a fast-moving fire. These neighbourhoods were scrupulously shielded from outsiders and international media as it contradicted the "worker's paradise" image Qatar wanted to portray.
The sweltering heat also took its toll, especially among construction workers. Many could not escape the heat even during midday breaks, as their employers did not provide sheltered spaces with air conditioning.
Oppression and abuse of other human beings is un-Islamic. It cannot be justified for the purpose of prioritising religious solidarity. Qatar should have acted more conscientiously by ensuring the welfare of hundreds of thousands of migrant workers who came to help it realise the dream of hosting the World Cup, including fellow Muslim brothers and sisters. The country has been transformed in record time for the tournament thanks to migrant workers many of whom paid the ultimate price.
Instead of going into defensive mode to outside scrutiny, the ummah, the entire Muslim community, should call on FIFA and Qatari authorities to compensate workers and their families for the abuses they sustained and prevent the legacy of the 2022 World Cup from being a disaster.