"Nobody imagined it would be so intense": Mozambique after Freddy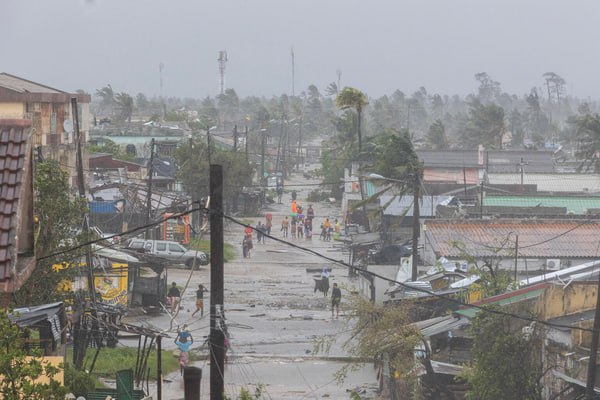 While Mozambicans count the cost after the deadly Cyclone Freddy, people in Beira continue to wait for support four years after Idai.
Tropical Cyclone Freddy reached the coast of Mozambique – for a second time – on the night of 11 March, causing devastating damage in Niassa, Zambezia, Tete, Manica and Sofala provinces. Though authorities are still surveying the damage, the latest figures suggest the powerful winds and heavy rains caused at least 143 deaths and destroyed 143,000 homes in Zambezia alone, and affected over 540,000 people nationwide. At least 34 bridges and about 2,700 km of roads have been reported to have been destroyed, according to Mozambique's roads authority ANE. UNICEF has warned that millions of people are at greater risk of cholera.
In Quelimane, the country's fourth largest city and the worst affected, many streets remain blocked with debris, branches, and other objects swept away by the cyclone and the fury of the rainwater. Electricity poles and cables have toppled, leaving parts of the city without power, piped water or stable communication services.
"It is a tragedy, a trail of destruction without precedent," says the mayor of Quelimane, Manuel de Araújo. "I have never seen anything like it." 
"The authorities had warned of the cyclone's arrival, but nobody imagined it would be so intense," adds Zito Ossumane, a journalist with Quelimane-based newspaper Txopela. "We were practically taken by surprise. Everything is destroyed and many families are displaced and without access to essential goods."
Joana Abdula, 40, was one of the many Mozambicans to see her house and her belongings destroyed. She travelled with her two young children to Icidua Primary School, near her home on the outskirts of Quelimane, to shelter in the early hours. "First it was the strong winds that removed the roof and part of the house collapsed," she says. "Then came the heavy rains that wet everything and flooded the house. We lost everything."
Laura Sozinho, 44, similarly joined the 41,000 people seeking refuge in reception centres in Zambezia province after Freddy flattened her home in the Sangariveira neighbourhood. "This is the safest place I have found in the midst of strong winds and rains," she says of the local primary school. "Me and my three children will stay here until someone helps us with a place to stay because at home there is nothing left…Everything has gone with the rain, even chickens we used to raise to sell."
Government aid for victims in these reception centres is meagre, with many displaced people claiming to have only one or two small meals a day. This situation is partly due to the fact that the cyclone destroyed the roof of a warehouse that contained 40 tonnes of emergency food assistance.
"A good part of it got wet with the rain," Luisa Meque, president of Mozambique's natural disaster management agency (INGD), told the press.
Still waiting after Idai
Freddy is already the second deadliest cyclone recorded in Mozambique since 2000. The deadliest was Cyclone Idai, which caused 600 deaths in 2019, mainly in Búzi, outside the city of Beira in Sofala province. Those affected by that disaster are still seeking help to rebuild their homes four years later.
"We have been registered many times and participated in numerous meetings, but until today there is nothing concrete," says Mateus da Costa, a resident of Búzi who lost his home in 2019. "It's more than [four] years of waiting, [four] years of survival."
In the aftermath of Idai, the government of Mozambique set up the Post Cyclone Idai Reconstruction Office to mobilise money to support recovery and reconstruction. Yet the process has been so slow that it was only in February 2023 that the agency announced the start to the reconstruction of 3,516 homes in Búzi.
"We can foresee that reconstruction will also take a long time in Quelimane," says Mayor de Araújo.
More intensity to come
Scientists say the intensity of cyclones will increase due to climate change. Mozambique, with about 2,700km of coastline, is particularly vulnerable. 
Freddy is the longest-lasting and highest accumulated-energy-producing cyclone on record, having formed on 4 February and only dissipated on 14 March. Like Idai, it had an unusual trajectory, passing through Mozambique twice. It first made landfall on 24 February when it caused 10 deaths and destroyed some 15,000 homes in southern Mozambique. It struck a second time on 11 March. 
"We have never seen anything like it," says Mozambique's weather office INAM meteorologist Acácio Tembe. 
On 15 March, Mozambican President Filipe Nyusi announced the creation of a Technical-Scientific Commission for climate change issues, which will advise the government on related matters. He also extended the scope of work of the Post-Cyclone Recovery Office to assist victims of Cyclone Freddy. On 20 March, the Zambezia government issued an appeal for "support in the form of zinc sheets and poles" to aid rebuilding.
While the authorities continue to survey the damage and attempt to mobilise assistance, Joana Abdula is resigned to restarting her life.
"Our house roof went with the windstorm, a part of the house collapsed, and the rain has damaged our possessions, including food," she says. "We are going to have to start from scratch and I honestly don't know when and how."
Laura Sozinho is more focused on surviving day to day and says the most important thing for her is a tent and essentials. "Other things will come with time because waiting for robust help from the government is complicated," she says.
---
Update (20/03/23): The numbers of casualties and houses destroyed were updated at 14:00 GMT to reflect the latest figures.