Could the jihadis dismantle the Sahelian state?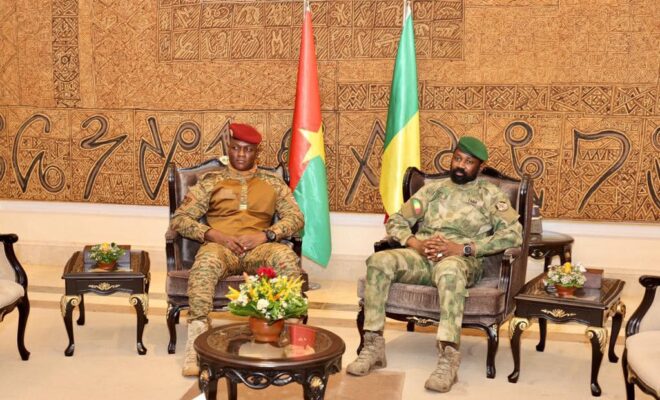 Beleaguered by a decade of Salafi-jihadist attacks, riven by internal grievances and undermined by the corrupt Francafrique system of clientelism and extraction, are the Sahelian states about to collapse? 
The village of Karma in the northern Burkina Faso province of Yatenga near the border with Mali woke up on 20 April to the presence of more than 100 armed men in military fatigues on motorcycles and armoured pickup trucks.
Villagers watched in a kind of slow-motion horror the gruesome execution of their neighbours. The wounded were hunted down. Among those killed were women carrying babies on their backs. There are conflicting reports as to the exact number of people killed: survivors gave a toll of at least 80; a local prosecutor said about 60 civilians were killed, while the UN Human Rights says at least 150 villagers were massacred.
The attackers allegedly accused village residents of sheltering members of non-state armed groups including the Jamaat Nusrat al-Islam wal Muslimin group – an Al-Qaeda affiliated  Salafi-Jihadist militant organisation operating in the Sahel.
Burkina Faso has been increasingly exposed to the threats and attacks of violent armed jihadist groups linked to Al-Qaeda and so-called Islamic State (IS) since the jihadists launched a bloody campaign from neighbouring Mali in 2015. Over the past two decades, the insurgencies have grown entrenched in Africa – most notably across the Sahel in Burkina Faso, Mali, Niger,  gradually making territorial incursions into the coastal states of neighbouring Ghana, Benin, Togo and Cote d'Ivoire. The northern parts of Burkina Faso and Niger are especially at risk as a result of conflict spill-over.
In September 2022, Burkina Faso suffered its second coup in less than nine months. A 34-year-old army captain, Ibrahim Traoré, seized power, ousting Lieutenant Colonel Paul-Henri Sandaogo Damiba, who led a coup that January, toppling former President Roch Marc Christian Kaboré.
The government controls slightly over 50% of the country's territory; more than 40% isn't under state control. The West African country recorded 1,135 deaths attributed to terrorists in 2022, a 50% increase compared to 2021, according to the 2023 Global Terrorism Index(GTI). The 2023 GTI also reveals that the Sahel region is now the epicentre of terrorism, accounting for more deaths in 2022 than South Asia, the Middle East and North Africa combined.
In 2022, 48% of all terrorist deaths worldwide occurred in the Sahel, with three of the top 10 countries with the largest increases in terrorism-related deaths occurring in Burkina Faso, Mali and Niger. Burkina Faso and Mali also accounted for 73% of terrorism deaths in the Sahel in 2022 and 52% of all deaths from terrorism in sub-Saharan Africa.
"Political instability, manifested by the recent changes in power in Burkina Faso, usually results in [the] 'purging' of the security forces and a subsequent decrease of efficiency in their ability to tackle terrorist activities and defend the local population," Daniel Matan, researcher at the Meir Amit Intelligence and Terrorism Information Centre (ITIC), an Israeli-based research group that tracks both ISIS and Al-Qaeda, tells African Arguments.
Most of the attacks in Burkina Faso are ambushes of military and civilian convoys and raids of military installations, villages, or other population centres, Matan says.
"Usually, this kind of operation requires low-tech weapons such as assault rifles, machine guns, and in some cases, armed mounted trucks along with motorcycles. In case of an ambush, mines and improvised explosive devices (IEDs) are also used," he says, likening such modus operandi to those carried out by other Salafi-Jihadist organisations in Africa such as ISWAP in the Lake Chad region and IS in Mozambique.
The 20 April incident offers a grim reminder of a 12 June 2022 massacre of at least 100 civilians in the northern Burkina Faso rural district of Seytenga by suspected Islamists. In between these incidents, several other sophisticated attacks have occurred with high death tolls.
Suspected jihadists killed at least 40 people – among them  army auxiliaries and civilians – in the Burkina Faso's Boucle du Mouhoun region near Mali during two separate attacks carried out on 27 and 28 May, 2023.
The inventory of death is now taken on an almost weekly basis. On 6 April, suspected armed terrorist groups launched twin attacks on the villages of Kourakou and Tondobi in northeast Burkina Faso killing at least 44 civilians. In mid-April, another attack on a convoy of army and volunteer defence forces in the north of the country left 40 people dead – eight soldiers and 32 civilian volunteers – and wounding 33 others. 33 more soldiers were felled yet again on 27 April in the eastern region following what the army called "a large-scale complex attack" by jihadists.
The spate of killings started earlier this year when 51 soldiers were killed in an ambush by jihadists in the northern region. More than 10,000 civilians, troops, and police have been killed in Burkina Faso and at least two million others displaced – that's just under 10 percent of the country's population – since jihadists launched their campaign in 2015.
UNICEF estimates at least 10 million children in Burkina Faso, Mali and Niger are in dire need of humanitarian assistance as a result of the spiralling conflict, while another four million are at risk in neighbouring countries, as hostilities between armed groups and national security forces spill across borders.
On 4 April, the UN and partners announced an $877 million response plan to meet urgent needs of a staggering 4.7 million people in Burkina Faso – who constitute a fifth of the population. Recent data from Critical Threats show that despite  significantly increasing drone strikes targeting Al-Qaeda- and IS-affiliated militants since late March 2023 to compensate for manpower capacity limitations and boost its popular support, the Burkinabè junta's use of drone strikes will not address the "inherent manpower shortage" that constrains the country's counterinsurgency operations.
"Drone strikes can be useful for killing terrorist leaders and protecting friendly forces from attack, but they can't defeat an insurgency on their own," Joshua Meservey, senior research fellow at the Washington-based Hudson Institute tells African Arguments. "That requires enough competent infantry to clear and hold territory, and government leadership that creates the economic and political conditions to motivate people to resist, or at least [not to succumb to] the insurgents. Burkina Faso currently lacks both those ingredients, as evidenced by the continued surge of terror attacks and the fact that the government has lost control of large sections of the country," he says.
State impunity drives more violence
Long spared by the Sahel's armed groups, Burkina Faso now faces frequent and lethal attacks in the north. Impunity for human rights violations and abuses undermine confidence in Burkina Faso's state authority, heighten inter-communal tensions, and fuel cycles of violence and recruitment into armed groups.
As in central Mali, local communities see state representatives and security forces as foreigners trying to enrich themselves rather than state agents responsible for their security.
Consequently, many inhabitants are reluctant to cooperate with security forces who are often native to other provinces, and who exhibit brutality in their treatment of local populations thereby engendering the distance between the state and the  populace.
Meservey identifies two elements that have combined in the Sahel to aid the growth of terrorism: "Poor governance that makes people amenable to terrorists' message that they have the solution for the problems people are facing, and the growth over the decades of the Salafi practice of Islam, which has broadened the pool of people who share key theological beliefs with many of the Islamist terrorist groups.
"France's 'forever war' in the Sahel demonstrates that military intervention alone is insufficient to defeat terrorist groups," he says. "Without a capable and committed local military force and government, military interventions against terrorist groups will indeed have to be forever."
Jeremy Keenan, visiting Social Anthropology Professor in the Law School at Queen Mary University London and an authority on the Sahara-Sahel, attributes the explosion of extremist violence in the Sahel to what he calls "several 'elephants in the room'" – referring to disinformation campaigns propagated over the last two decades by mainstream media, Western governments, and salaried analysts during reporting on 'terrorism' in North Africa, the Sahara and Sahel.
"[One of these] is the fabrication of many 'terrorist' incidents in Algeria and the Sahel between 2002 and around 2012 by US secret intelligence services and their Algerian allies in order to justify the launch of a 'second' or 'Saharan-Sahelian' front in the global war of terror (GWOT), especially in the years following 9/11," Keenan tells African Arguments.
Added to this, he argues, is the role of Algeria's secret services, which, aside from assisting the US in the fabrication of terrorism in the region to help legitimise the GWOT, have also pursued their agendas of re-establishing Algerian hegemony in the Sahel, and relocating terrorism from Algerian national territory into the Sahel.
The last factor, according to Keenan, has to do with the failures of France's military intervention first in Mali (January 2013), and then in the wider Sahel.
"These failures have been twofold: the failure to recognise that 'terrorism' in the Sahel cannot be overcome purely by military counter-terrorism strategies, as advocated by the US during the GWOT; and the extraordinary (given that France was the colonial power) failure of France's military intelligence services to recognise and act upon the Sahel's profound ethnic, cultural and historical dynamics and cleavages, which have increasingly fuelled the expansion of violent extremism – or 'jihadism' as many prefer to call it – across much of the Sahel from 2013 to the present."
He further warns that until these "awkward issues" are fully understood and taken on board – along with the recognition that the sort of extremist violence now threatening to expand from the Sahel into neighbouring West African coastal states, such as Ghana, Benin, Togo and Côte d'Ivoire, "is not purely a religious phenomenon", but primarily a response to multiple, deeply complex social, economic and political problems – the security situation across much of the Sahel and beyond is likely to deteriorate further.
"[This will be the case] especially if Russia, through its mercenary Wagner Group, and other external players, such as the Emirates, try to take advantage of the situation."
Who are the Salafi-jihadi groups?
Several non-state armed groups are active in the Boucle du Mouhoun, Centre-Nord, Est, Nord, and Sahel regions of Burkina Faso as well as in the regions bordering Mali and Niger. The two main Salafi-Jihadist organisations operating in Burkina Faso are the ISIS Sahel Province (IS-Sahel) and the Group for the Support of Islam and Muslims (JNIM). The latter, linked to al-Qaeda, was created in Mali in 2017 as a union of four different groups: al-Qaeda in the Islamic Maghreb (AQIM), al-Murabitoun, Ansar al-Dine, and the Macina Liberation Front.
IS-Sahel – formerly Islamic State in the Greater Sahara (ISGS) – has been operating in the region under the Islamic State's banner since 2016.
As with all al-Qaeda and Islamic State affiliates, JNIM and IS-Sahel strive to establish an "Islamic state under sharia law" in adherence to their parent organisations' long-term vision, according to Matan of the Israeli-based ITIC research group.
"Unfortunately, lack of knowledge regarding the inside dynamics of JNIM and IS-Sahel prevents us from determining the level of involvement of al-Qaeda and the Islamic State in their activities," says Matan. Both jihadist groups may however be "largely self-sufficient" in terms of manpower, weapons, and other resources, and rely on local or regional sources. "As with other Salafi-Jihadist organisations around the world, there is no definitive answer regarding support and sympathy from the local community."
Matan said the fact that JNIM and IS-Sahel operate in the northern and eastern parts of Burkina Faso – where the majority of the population is Muslim and presumably are a source of support – has only meant that the overwhelming majority of the casualties of this extremist violence are Muslims.
A traditionally rural country with agriculture as the main source of income, farming and forestry employ 80% of Burkinabè. Despite recent economic growth, poverty levels remain largely stagnant, partly a consequence of population growth rates outstripping economic growth, combined with recent climate shocks that affect crops and food security. More than half of the population of Burkina Faso lives on $1.90 per day, ranking the country as one of the world's poorest.
Urban areas are particularly affected, with an unemployment rate of 50%. Poverty, combined with an overstretched state apparatus, corruption, lack of accountability and weak legitimacy of the security forces leads to significant gaps in access to state security and justice services.
This creates a breeding ground for social tensions and violence and gives credibility and space for non-state armed groups to operate especially in areas where the community has internalised perceptions of exclusion, predominantly among the youth, and views more prosperous regions as beneficiaries of corruption and skewed distribution of the state's largesse.
Insufficient security apparatus
Burkina Faso's security forces are considered inadequately equipped and lacking sufficient operational capacity to perform their duties in line with the country and population's needs. They have sometimes been accused of disproportionate use of violence, extrajudicial killings and human rights violations, including towards civilians.
Concerns have also been raised regarding the composition of the army and auxiliary forces under its control. There is also the risk of the prevailing crisis affecting the coherence and resilience of this institution.
"The land area is too vast [274,220 square km] and the population too small [22.1 million, to be effectively policed]," Nna-Emeka Okereke, an expert on African affairs and regional security in West and Central Africa, tells African Arguments. "There exist vast uninhabited and under-governed spaces which serve as sanctuary for the terrorists," he said. Moreover, Okereke says, there exists "deep-rooted animosity" of the population towards the Fulani – the biggest nomadic ethnic group in the world – who constitute the bulk of Islamic State recruits in the Greater Sahara amid other local grievances breeding terrorism.
"Then, the existence of active terrorist groups in neighbouring countries feeds the domestic contradictions. Certainly, I am not surprised at the recurring terror attacks in Burkina Faso and more will unfold as the government lacks robust counterterrorism capabilities to meet the Islamist threat."
And as Salafi-jihadi groups mature, they gain capabilities that they can marshal toward both local and international targets. Counterterrorism interventions by African governments and international actors have failed to protect communities, allowing Salafi-jihadi groups to capitalise repeatedly on conflicts and grievances to establish and expand their presence.
Today, under pressure of the jihadist offensive, the state of Burkina Faso, like Mali, is "disintegrating", asserts Professor Keenan. And with the withdrawal of French troops from the region, along with smaller contingents of other western forces – coupled with Mali's military junta and its Russian protector having few interests other than retaining power, extracting resources such as gold and furthering chaos, disinformation and anti-Western sentiment – Keenan predicts that not only northern Burkina Faso, but the rest of national territory as well as neighbouring states are exposed to the jihadist offensive.
"Indeed, it is difficult to foresee how either Mali or Burkina Faso can maintain their territorial integrity for much longer," Keenan says. "The blame for Burkina's Faso's demise is widely shared, being apportionable between the country's corrupt leadership since Sankara's assassination, as well as France, regional and international bodies such as ECOWAS, the AU, the EU and UN, who have all – to one degree or another – been disempowered or failed to see the writing on the wall."
The last two years have been a massive humiliation for France, during which anti-French sentiment has spread across most of the Sahel and many other parts of Francophone Africa fuelled principally by grievances from the colonial and post-colonial era, and exemplified by unequal relations generated and reinforced within academia, the media and politics. France failed militarily to keep its promise to rid the Sahel of terrorism. "Indeed, as France expanded its Operation Serval (Jan-2013-July 2014) into Operation Barkhane (August 2014-November 2022), the security situation throughout most of the Sahel and neighbouring regions has deteriorated progressively," said Keenan who also acknowledges that the security situation in both Mali and Burkina Faso has "deteriorated substantially" since France was forced to withdraw its troops.
But France's military let-down has been compounded by the "extraordinary failure" of its intelligence services, especially their lack of understanding of local ethnic cleavages and disputes.
"A further major cause of the rise in anti-French sentiment is the political and financial corruption underlying Francafrique," Keenan points out. "Associated with this, there has been a growing sentiment that France is fundamentally only interested in maintaining access to its former colonies for financial and economically exploitative reasons."
Earlier this year, Burkina Faso's former colonial master, France, confirmed that it was withdrawing its troops stationed in Burkina Faso. Incidentally, just weeks after Burkina Faso's junta ousted hundreds of French troops, signs appeared that the West African country could be moving closer to Russia, including the mercenary outfit, the Wagner Group.
Meservey of the Hudson Institute warns that the French pullout and Wagner's entry is "terrible" for the region and the fight against terrorism.
"Wagner is so brutal that it will only inflame the grievances among local people that help make the terrorists' message attractive in the first place," he noted.
"Wagner may also not even be a particularly effective fighting force, if its resounding defeat and subsequent flight from northern Mozambique is any indication."
As the world watches Burkina Faso slip into violence and anarchy, the Norwegian Refugee Council (NRC) recently warned that the West African state is the world's most neglected crisis today, leaving "one in four Burkinabè in need of aid". Burkina Faso has risen steadily up this list of the wretched – ranking second in last year's report, and third in 2019.