South Sudan: Soldiers' rape trial is a publicity stunt and distraction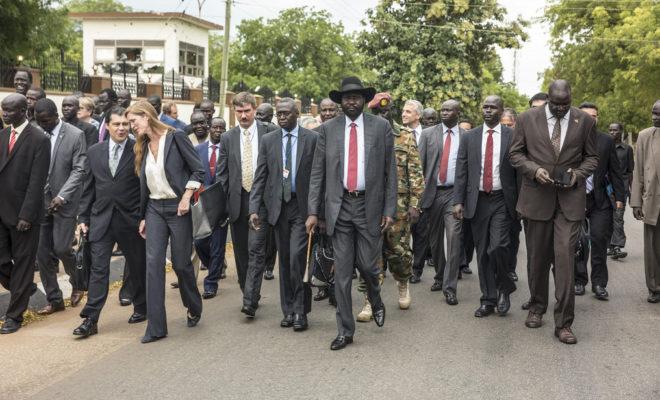 The military trial could further undermine the possibility of broader justice for South Sudan's millions of victims.
A trial of thirteen South Sudanese soldiers accused of raping foreign aid workers and killing a local colleague is ongoing in Juba. The events being examined occurred in July 2016 at the Terrain Hotel following a three-day battle in the capital.
The fact that these government troops are being tried may appear to be a positive development amidst the country's devastating conflict, lack of accountability, and dire humanitarian situation. It will be for the victims if justice is served.
However, in terms of tackling impunity in South Sudan more broadly, the trial is sadly little more than a publicity stunt – and one that could even forestall wider justice in the country.
The incidents at Terrain Hotel are a drop in the ocean when it comes to the extensive crimes committed since the start of the war. Moreover, the fact that the case is being heard in a military court further undermines the establishment of the Hybrid Court, the body supposed to investigate and prosecute such crimes in the interests of all South Sudanese.
Where's the Hybrid Court?
Since the start of the conflict in 2013, tens of thousands of people have been killed and millions displaced. Both government and opposition troops have committed atrocities, including war crimes, extrajudicial killings, sexual violence, abductions and looting. Civilians have been massacred in large numbers, while women and girls have been raped en masse.
According to a report from the UN Panel of Experts, many of these acts "have been directed by or undertaken with the knowledge of senior individuals at the highest levels of the Government and within the opposition".
In 2015, a peace deal between warring groups was mediated by the regional Intergovernmental Authority on Development (IGAD). Amongst other things, the parties agreed that a Hybrid Court would be established by the African Union Commission.
This court would investigate and prosecute crimes committed from 15 December 2013 through to the end of the Transitional Period, due to conclude in 2018. It would include personnel from both South Sudan and abroad. And it would have jurisdiction over allegations of genocide, crimes against humanity, war crimes, and other serious violations including gender-based and sexual violence.
Up till now, however, the Hybrid Court has yet to be established. This is despite the fact that the transitional government was set up 14 months ago and despite ongoing insistences that the 2015 agreement is not dead but still being implemented.
According to the Commission on Human Rights in South Sudan, established by the UN Human Rights Council, these delays mean that "valuable time was lost, and possibly, important evidence of major war crimes and human rights abuses".
[Failing South Sudan: First as Tragedy, Then as Farce]
Undermining justice
The lack of political will in Juba to prosecute war crimes has been seen repeatedly. In June 2016, after the formation of the transitional government, President Salva Kiir and then First Vice-President Riek Machar published an op-ed in the New York Times entitled "South Sudan Needs Truth, Not Trials". In it, they argued against prosecuting war criminals and the establishment of the Hybrid Court.
[No, South Sudan's citizens want trials and need trials]
Four days after publication, Machar disavowed the contents, saying he had not been consulted about it. Kiir's spokesman insisted he had.
Either way, signs that the government is undermining justice have continued. For example, this February, two top officials overseeing the military courts resigned, saying high-level interference made it impossible to discipline soldiers accused of rape and murder.
One of the two, General Henry Oyay Nyago, wrote a letter to President Kiir, accusing him of war crimes and of undermining two bodies set up to investigate atrocities and the "root causes" of the 2013 crisis that escalated into civil war.
"The committees started their work and submitted a lot of findings with recommendations, but unfortunately, you warned against these committees and abolished their task in your decree number RSSR/RO/J/09/2014 simply because the accused originate from your ethnicity," he wrote.
"It is also detected that you circumvent and bypass the performance of court proceedings, abolished rulings against soldiers and officers found guilty, and hampered issuance thereof. I had always argued that it is because they are of your own ethnicity."
Double standards
For many in South Sudan, the reason why the Terrain Hotel case has gone to court while millions of other victims have been systematically denied justice is clear. Although the suspects are accused of killing a South Sudanese national, the majority of victims are foreigners.
"Some soldiers killed South Sudanese women, walked. Others raped South Sudanese women, walked. However, those who allegedly/reportedly raped them "foreign" aid workers are going to jail," said one South Sudanese man. "The moral of the story is keep raping and killing them South Sudanese women, leave them aid workers alone."
Another commentator said: "Everyone agrees that the only reason there is justice being pursued here is because some of the victims were white. It is a travesty."
He says he nevertheless hopes the trial will lead "to some change, and to more prosecutions". But this may be wishful thinking. There is a clear double standard when it comes to crimes against foreigners versus those against locals.
For example, following widely-reported rapes of South Sudanese women and girls in Kubi village, allegedly by government soldiers, the army said they cannot follow up unless the victims themselves make an official complaint.
A mockery of justice
It is possible the ongoing trial in Juba will have positive effects in tackling impunity. As well as potentially providing justice for the victims, it could deter other junior soldiers from committing crimes without orders. However, given that few troops have the means to follow current affairs, especially from credible sources, this may be unlikely.
More realistically, the case will do little for South Sudanese justice. As the oft-quoted saying puts it, not only must justice be done, it must be seen to be done. South Sudan falls dangerously short on both.
Top leadership has time and again protected itself and its allies against prosecution, and even a successful trial of thirteen junior soldiers will not change that. Furthermore, holding the case in a military court undermines the role of the Hybrid Court, which is meant to have jurisdiction over such crimes and have primacy over any national courts.
The Hybrid Court also contains provisions to protect victims and witnesses in line with international laws and practices. It is uncertain if the same is true of the military court regarding those who are abroad, whose absence led the trial to stall this week, and the doctor who examined the victims in Nairobi.
Last week, the IGAD heads of state and government issued a communiqué calling for an urgent timeline for the implementation of the 2015 peace agreement. It is crucial that the establishment of the Hybrid Court is prioritised in any plan.
As the agreement then and the reality on the ground today dictates, the only path to justice for all in South Sudan is through the establishment of this Hybrid Court. Anything else is not motivated by a genuine search for justice, but is a diversion from the law, a double standard, a mockery of justice, and a publicity stunt.