Far from defeated: Boko Haram gears up for a deadly Christmas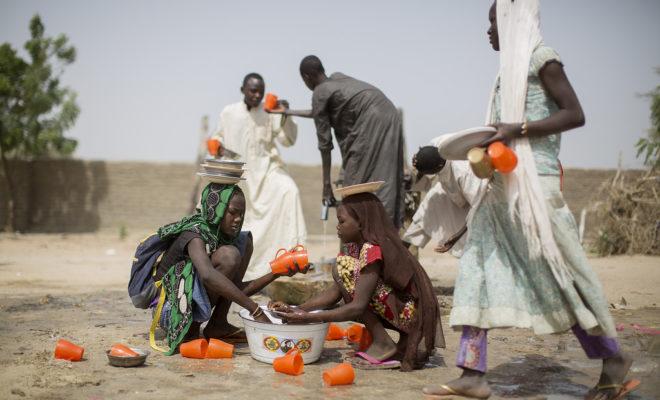 Despite claims of their defeat, Islamist fighters have launched numerous attacks on both civilians and military bases in recent weeks.
Since 2014, when Boko Haram was labelled as the deadliest terrorist organisation in the world, the insurgency has mostly experienced setbacks.
By the end of 2015, Nigeria's President Muhammadu Buhari, who had come to office earlier in the year promising to tackle the Islamist group, declared it "technically defeated". A year later in December 2016, the government claimed Boko Haram had lost its last strongholds in Sambisa Forest. Many hoped that by the end of 2017, the group would finally be a thing of the past.
However, in just the past few weeks, the group has claimed the lives of well over 100 people in numerous separate attacks.
The worst of these occurred on 21 November when 60 people were killed by suicide bombers at a mosque in Mubi, Adamawa State. A week earlier, 40 people died in attacks in Mandarari and Manu Gari, Borno State. Five of the assailants had been women, reinforcing the fact that Boko Haram has used more female suicide bombers than any other militant group in history. The group also coerces many children into conducting attacks.
In early December, Boko Haram then launched an assault on an army camp in Sasawa, Yobe State, killing 15 soldiers. On 13 December, fighters tried to overrun another military post in Borno State. That the group still has the capacity to muster such attacks should raise concerns. Boko Haram previously transformed itself from a dissident group using bows and arrows to an armed insurgency able to take on the Nigerian security forces partly by raiding military bases.
A number of other recent attacks have had smaller death counts, but if the supposedly "defeated" Boko Haram maintains this intensity in the coming weeks, this Christmas period will be the deadliest for years.
How is Boko Haram still operating?
Two years after Boko Haram was declared defeated, why are we suddenly seeing such heavy action?
The first answer is simply that Nigeria's security establishment has tended to overstate its achievements. This has likely been encouraged by Buhari repeated promises to eradicate Boko Haram "by the end of the year".
This accounts for the government's fondness for December declarations and could explain a recent step up in military operations. According to a resident in Borno, the sound of artillery fire filled the night sky on 5 December in what was possibly an attempt by the Nigerian army to flush out militants and claim some fresh victories. Additionally, the government posted a new commander to lead the fight against Boko Haram earlier this week.
Another answer to why Boko Haram still operates effectively is that it has been allowed to in part thanks to the corruption that pervades the Nigerian security services.
When Buhari came to office in May 2015, a host of anti-corruption measures and new demands on officers – such as that they lead from the front and not from behind desks – were important in turning the situation around. But there is still a lot of money to be made through embezzlement. Billions of naira have been diverted to fighting Boko Haram, and billions of naira have disappeared. In the almost nine-year-long campaign, a culture of corruption has developed, lowering officials' incentives for ending the violence.
The effects of this permeate through the force. Soldiers who receive low or no pay turn to selling their equipment to insurgents to raise an income. On many occasions when Boko Haram has attacked, troops have downed their weapons and fled, determining that it is not worth their while to stay and fight.
A deadly Christmas
One should not underestimate the successes made against Boko Haram. The group is more fractured than ever and has lost significant power and territory. However, the recent attacks show clearly that it is still capable of destroying lives on a large scale and wreaking havoc.
Boko Haram has always been made up of several groups rather than being a unified whole. Musab al-Barnawi's faction was likely behind the attack on the Yobe army base. The terrorist attacks on civilians have the hallmarks of Abubakar Shekau's splinter. The bombing of the Mubi mosque in particular reflects the radical indiscriminateness of Shekau's faction, which has earned condemnation from many jihadist circles.
Put simply, Shekau believes that everyone who is not with him is an apostate and therefore a potential target. This justifies his attacks on Muslims, but also makes the Christmas season – an important time for Nigeria's Christian population – a time of heightened activity.
It is not a coincidence that Boko Haram's first major terrorism attacks occurred on Christmas Eve in 2010. Striking a market and three churches in Maiduguri as well as another market full of Christmas shoppers in Jos was a way of pitching followers of the two religions directly against each other.
Seven years – and various declarations of the group's defeat – later, Boko Haram is still able to kill civilians and soldiers by the dozens. It remains to be seen whether it will keep up its brutal assaults as Christmas approaches, but despite some moments of optimism in recent years, it is clear that the hydra-headed group is far from defeated.