Eritrea: History aside, what will peace mean for my loved ones?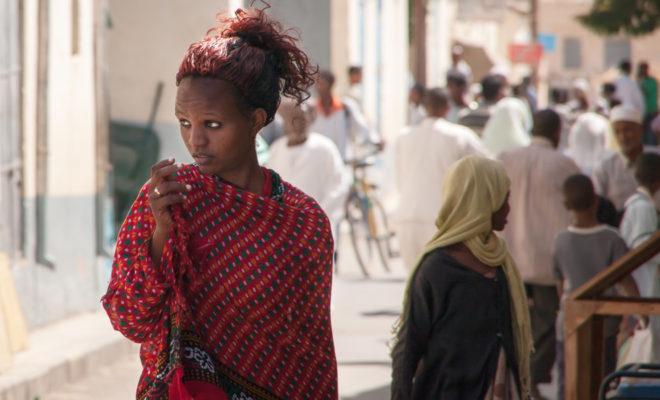 Asmara's feud with Ethiopia's had a huge bearing on Eritreans in the country and diaspora. Now there's peace, we have a lot of questions.
Like many Eritreans, the sudden warming of relations between the Eritrean and Ethiopian governments has filled me and my loved ones with both hope and fear. The no-war no-peace stalemate that defined the politics and identity of my country for 20 years is apparently over.
This newfound peace is undoubtedly a cause for celebration, and one that will transform politics across the region for years to come. Yet for many of us, the most pressing questions this new situation begs are far more immediate.
We are asking things like: Will my sister in school still be conscripted into compulsory military service next year? Will my cousin, who is looking for ways to be smuggled across the border, be allowed to leave legally instead? Will my aunt, who has criticised the Eritrean government from outside the country, be allowed back in? Will my uncle, languishing in jail for political reasons, finally be released?
[Isaias out of character: Why Eritreans are getting nervous]
[Ethiopia-Eritrea peace: Some unanswered questions]
Lives on hold
For two decades, Eritrea has been one of the world's most secretive and isolated countries. To begin with, it has been extremely difficult to get in and out. The first time I applied for a visa to enter as a tourist, I was met with puzzled laughter at the consulate. I was only able to get a visa because I had some contacts that could pull strings in the capital Asmara.
Getting out of Eritrea is much harder and much more dangerous. Very few are permitted to exit by the government, and so most who want to leave rely on human-smugglers and risk being arrested or kidnapped for ransom. Everyone knows someone who has embarked on these uncertain and treacherous journeys. Thousands consider the conditions in the Eritrea to be so dire as to do so every single month.
Life in Eritrea is restricted and tough. The country is poor and the economy extremely closed. People are not allowed to access non-state media. There is practically no Internet or access to smart phones. And there has never been a single election. Asmara's defining features – the crumbling, modernist architecture; wide, palm-lined avenues; Italian-style pastry shops; and classic 60s Volkswagen beetles – are all reminders of a vibrancy that has long ceased to exist.
Worse still, all young people in Eritrea are required to undergo compulsory national service. Their passports, university diplomas and lives are put on hold as they undergo military training, after which they may be sent off to labour in any outpost that the government sees fit.
At the moment, one of my relatives spends his days painting arrows and divider lines on the few one-lane roads of Asmara for virtually zero pay. Another, who was finally released from national service after over a decade, is still required to guard a government building from 10pm to 3am once a week. National service is indefinite. In his words, this serves "as a reminder that the government has power over me".
Divided families
For 20 years, President Isaias Afwerki, who effectuates total control, has used the pretext of Ethiopian hostility to entrench his totalitarian rule and shut Eritreans off from the outside world. This has incurred huge political and economic costs, but the human costs of this enforced isolation have been just as high. They can be measured in every Eritrean family, each of which has its own stories to tell.
I had an aunt, for example, who lived in Addis Ababa. When she received a diagnosis of terminal cancer, her relatives in the US and Canada could visit her to say goodbye, but her loved ones just over the border in Eritrea were not allowed.
I have another friend nicknamed "Baby". When the 1998-2000 border war began, he was in Eritrea with his mother. The rest of the family was visiting Ethiopia. With transit no longer permitted, they were suddenly split in two. In an instance, the tight-knit unit was unable to reunite and could only communicate with great difficulty. My friend was called Baby, because that's what he was the last time the rest of the family saw him.
The separation between Eritrea and Ethiopia has never been of two nations, but of two populations made up of thousands of families. That's why headlines such as the New York Times' "After 20 Years of Silence, Strangers in Ethiopia and Eritrea Call to Say Hello" fail to capture an important element of Ethiopian-Eritrean relations. We are not strangers.
What now for us?
With war declared over, the status quo of the past two decades will fundamentally change. Asmara's apparatus of control will necessarily shift, marking the end of Eritrea as we (don't) know it. But this brings us back to the question of what will happen to the Eritreans' lives both in the country and in the diaspora.
Now there is no longer an apparent threat of Ethiopian attack, will military conscription end? Now that flights are open to Eritrea, who will be allowed in? My dad, having written critically of the regime in the past, has not dared enter the country for the past ten years. Will there be a place for him and other dissidents in this new opening?
What about the thousands who have fled? Several of my family members have sacrificed the prime years of lives in refugee camps and transit countries for the chance to begin anew elsewhere. Will they be able to keep these lives that they've worked for?
Some Eritreans remain sceptical about Asmara's genuine capacity to act differently. "Having seen the injustice in my country, I don't think anything will change without a change in leadership," a compatriot told me. That's not the feeling of most Eritreans, but our new hope remains tinged with fear and uncertainty, our long-held fear and uncertainty now tinged with hope.
—