Of sunken states and ballet nights: Prize-winning photos from E Africa
The East African Photography Awards – as well as the Uganda Press Photo and Young Photographer Awards – return in 2022 with stunning and evocative entries from across the region. This edition features images covering a myriad of issues, from the war in Ethiopia, to a sinking graveyard in Tanzania, to elephant-human friendship in Kenya.
We picked out some of our favourites from the winning and shortlisted entries:
---
Searching for peace amidst chaos – Amanuel Sileshi (Ethiopia)
Winner of East African Photography Award (Stories)
Since 2020, the north of Ethiopia has been gripped by a civil war between Tigray forces and the federal government of Ethiopia. Both sides stand accused of atrocities, and both sides have suffered horrifying losses, both military and civilian. Meanwhile, the war remains largely invisible internationally because of restrictions on reporting. In Sileshi's series of images (one of which is above), we see empty bullet casings, soldiers covering their noses as they navigate the scene of a massacre, and schools and churches suffering the same fate as tanks and fighters as a civilian population finds itself trapped between two armies. The photo above shows a horse rider going past a destroyed tank in Mesobit, Ethiopia, in December 2021.
---
A changing community and the fears ahead – Gordwin Odhiambo (Kenya)
Second-placed in East African Photography Award (Stories)
Nairobi is one of the world's fastest-growing urban spaces. But for communities near its centre, in historically low-income areas that served the growing city with the cheap workers, the mood is grim. Huge infrastructure projects in search of new land are turning their attention to informal settlements and previously unattractive sites. Even when evictions do not lead to human rights abuses, they still shatter communities. Odhiambo's photo series explores these changing neighbourhoods and the lives of those losing their homes. For those born and raised in Nairobi, the sense of place has drastically changed. New structures, political changes, and waning housing affordability leave residents facing an uncertain future in and around the city they call home.
---
Even the dead can't escape climate change – Ericky Boniphace (Tanzania)
Third-placed in East African Photography Award (Stories)
Amid climate change, the water level of Msimbazi River has risen in recent years and has now begun to erode the riverbank on which Vingunguti Cemetery, in Dar es Salaam, is located. After several graves were swept away by high water, authorities made the difficult decision to relocate 200 graves to a new cemetery at Kitunda Mwanagati. Workers were employed to disinter the remains of those buried. Some family members who came to witness the process found themselves grieving anew. The loss of this cemetery is a sign of the scale of the changes we face in this climate emergency.
---
The art of dance in the slums – Donwilson Odhiambo (Kenya)
Honourable mention in East African Photography Award (Human)
In Kibera, ballet dancing has transformed the community and youths from different backgrounds. A team of young ballerinas from the CARO Foundation (Creating A Reliable Oasis) has taken over the streets, painted and dressed in colourful costumes. One night, they performed a street dance – that included the ten-year-old Marion Adhiambo, pictured above – to raise awareness about mental illnesses, drug abuse, teenage pregnancy, early marriage, and dropping out of school. The dance encouraged parents and guardians to help their kids join after-school activities that would keep their minds active.
---
Next Life – Andrew Kartende (Uganda)
Winner of Uganda Press Photo Award 
Robert, an ironmonger in Kiteezi, Kampala, makes small kerosene lamps out of tin cans for a living. He searches in landfills for steel tins, which he cleans, carefully checking for rust. He uses steel because it can be recycled indefinitely, with no loss of its essential properties. Once he finds a good can, Robert makes a lid for it from pieces of another can and then inserts a cotton wick through the top. He adds a small handle to complete it. When filled with kerosene, these little lamps, known in Luganda as tadooba, provide a steady, though smoky, source of light. With a batch ready, Robert goes to the streets in search of buyers. His lamps are used by vendors to light their stalls and in housing where electricity is scarce. The kinds of upcycling done by makers like Robert forms the basis of a micro-economy for people living around Kampala's major landfill sites. It allows them to earn a living while helping to reduce waste and protect the environment.
---
Mary the elephant whisperer – Anthony Ochieng Onyango (Kenya)
Third-placed in East African Photography Award (Planet)
Rangers do a lot to support people and wildlife. That involves more than you might imagine: they are scientists, naturalists, community leaders, mothers, fathers, sons, daughters. The list is endless. Mary, a ranger with Reteti Elephant Sanctuary in Kenya, has an amazing bond with the orphaned elephants. The sanctuary is community-managed and most of its income goes to the women and children of the community.
---
Home is no longer home – Akuot Chol Mayak (South Sudan)
Honourable mention in East African Photography Award (Planet)
Children row a boat through flood water and under dead trees as they paddle towards an island in the village of Pawel, Jonglei state, South Sudan. With schools destroyed by floods, most of the school children have now turned to fishing as their only means of survival. The devastating floods submerged people's homes, leaving them with no dry land to stay on. People now live along the Jonglei Canal and on the few small islands that remain above the water level. The floods also brought with them a high number of malaria cases, waterborne diseases, and snake bites. 27 of South Sudan's 78 counties and more than 630,000 people are impacted by the floods. Most of the villages of Twic East County in Jonglei State are accessible only by canoes and small motorboats that can navigate the newly-formed water bodies.
---
Conducting the rugby crowd – Blair Davis Mugume
Honourable Mention in Young Photographer Award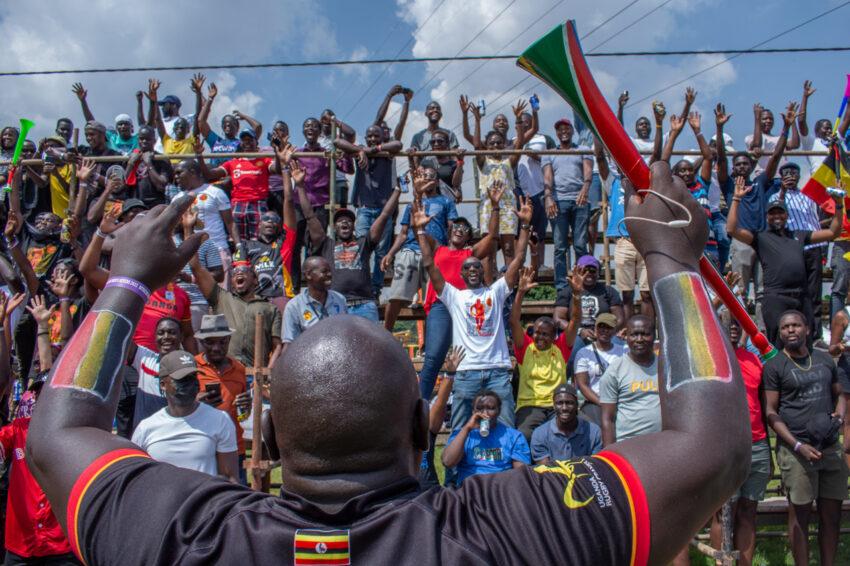 Salongo Eddy, a renowned rugby fan, just like a choir conductor, fires up the Ugandan crowd at Kyadondo Rugby Grounds as the Uganda Cranes Rugby team prepares to storm the pitch against their Kenyan rivals.
---
You can see all the winning and shortlisted entries here.