Did Nigeria's election tech fail or was it sabotaged?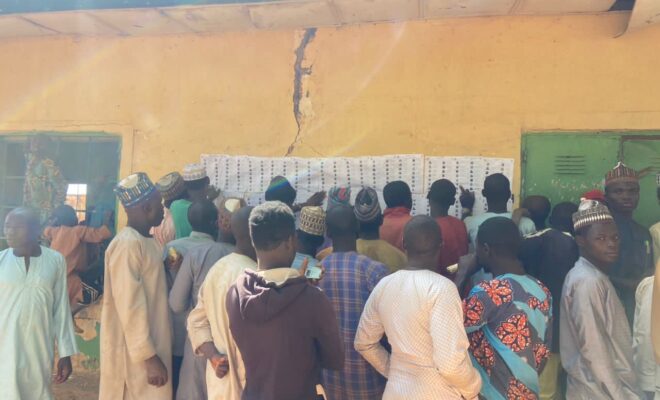 Young voters put their faith in digital technology. But at polling units nationwide, many were transported to an elections twilight zone. 
Victor Madu, a 25-year-old part-time student at the National Open University of Nigeria, always believed that he had no business with elections in the country. His position was based on two premises: the absence of credible candidates, and the level of malpractice historically synonymous with the country's electoral process.
But in June 2022, a few months after President Muhammadu Buhari signed a new electoral bill into law, he had a change of heart and decided to endure the long and gruelling process of registering and collecting a Permanent Voters Card (PVC), which would make him eligible to vote: "On two occasions, I had to bribe officials before I got it. The first time I paid N1,500 ($3.40) and later N2,000 ($4.3)," Victor recalls. He took consolation in the belief that as long as his vote counted, it was a small sacrifice to pay.
After getting his PVC, he began to mobilise friends and neighbours, many of whom also shared his old sentiments about the conduct of elections in the country. At 7 am on 25 February, the day of the presidential election, he set off to vote, determined that no one in his community would fail to exercise their civic duty.
"Our morale was very high. We were confident that the [amendments] to the electoral law would make the difference," he recalls.
The game changer
Since independence, Nigeria's governance institutions have failed to meet the challenge of conducting credible elections. But the introduction of the new electoral law last year led citizens to believe that an answer had finally been found, leading to increased interest and trust in this most discredited of processes. This enthusiasm was even more evident among young people seeking to make a change.
This sudden trust and the ability of the Independent National Electoral Commission (INEC) was, among other things, inspired by the fact that technological innovations had been introduced to address the slew of malpractices that typify elections in Nigeria. The most prominent of these innovations is the Bimodal Voters Accreditation System (BVAS) and the INEC Result Viewing (IReV) portal.
A digital device that authenticates and accredits voters via fingerprints and facial recognition, the BVAS replaced the manual voter verification, which had been grossly abused in the past, notably allowing multiple voting by a single voter. The device also captures images of the polling unit result sheets (Form EC8A) and uploads the image online. The INEC Results Viewing portal (IREV), the central repository where all results sheets from each polling unit would be uploaded immediately after votes had been counted, allowed voters to view the results. It was, therefore, impossible for the result to be changed – in theory, at least.
Despite some fears about the effectiveness of the system, at the end of the voter registration exercise last August, INEC announced that it had registered an additional 10.5 million voters. 84% were aged 34 years and under and brought the total number of registered voters to more than 94 million. After decades of deepening voter apathy, there was a sense of real optimism in the electoral system.
To ensure this new introduction is effective, the electoral law made it statutory for the results in all polling units to be electronically transmitted immediately after the announcement of results.
'Riding on chaos and crisis'
"The first sign that the electoral body would fall short of our expectations came on the evening of the day of the election," Victor explains. "Immediately after votes were counted, the BVAS machine stopped working and they [INEC officials] said they couldn't log in to upload again. Some said they did not have [mobile phone] data."
To ensure the results in the various polling units in his community at Satellite ward, Amuwo-Odofin local government, Lagos State, were uploaded, Victor and his friends, who he had mobilised to come and vote, turned on their mobile hotspot for the officials to upload the results. "But after connecting, the machine didn't work. This thing happened in all the polling units in my area. I was moving around, helping people locate their polling units so I went around and it was the same all over. At that moment, we began to suspect it was a conspiracy. But we had to let the INEC officials leave for security reasons and to avoid violence."
From that moment, Victor and his friends began to check the IReV portal, anticipating the uploading of results. This did not happen until two days later, on Monday 27 February. It turned out to be the least of their problems. The first results they saw on the portal was that of No 4, Baale street I, PU016, Satellite ward 7. To their utmost surprise, the result uploaded for their polling unit was that of Gitata in Karu local government, Nasarawa state – a polling unit located at least 704 km away.
"I was disappointed when I saw it," Uche Okoye, one of Victor's friends, says. "Up till now, I have not gone to market because the shock never leave my body," the 34-year cosmetics seller added in pidgin on Wednesday afternoon.
At another polling unit in their community, located at "End of Olanrewaju street, Satellite ward", the result of another polling unit in Nasarawa State was also uploaded.
However, Victor explained that when he checked the portal again on Wednesday morning – by which time the ruling party's Bola Tinubu had declared the winner – they had replaced the results with the original ones. "But they have already declared a winner. So how did they get that? What caused this?" he asked rhetorically. He was silent for a while, and then said, "The whole thing was rigged."
Hundreds of cases similar to these were identified across the country and shared by disappointed voters on various social media platforms, leading to questions about how transparent the process was.
"Our democracy should have matured past this particular stage. The fact that we are still facing all these irregularities is disappointing," Nimah Arigbabu, a public policy analyst at NG Voices, said.
She explained that the introduction of BVAS was necessitated by the need to ensure the mandate of the people at every election is protected. "But what is obvious now is that we enjoy riding on chaos and crisis."
"It just goes on to show that at this point, we have further weakened our democratic system. We might not feel it yet, but at some point in the future, we are going to come back and regret this."
A different pattern
David Akindolire, a 26-year-old lawyer, voted for the first time this year. At his polling unit, voting did not start until almost noon; INEC had directed polling units to open at 8.30 am. The officials arrived very late. For hours, David and many others braved the heat and the chaos around them. At multiple polling units a few miles away from theirs, political thugs disrupted voting exercises, threatened voters, and even attempted to steal a ballot box.
But despite this, he stayed on, determined to exercise his civic duty. "More than 90 of us later voted. And the number of voters registered there is about four times that," he recalled.  "Some people left before the officials arrived."
David's experience mirrors a pattern of experiences recorded by several voters, especially young first-time voters, raising questions about the low turnout of voters announced by INEC, and a growing suspicion of organised vote suppression. At the end of the exercise, the voter turnout of 27% was the lowest in the country's history. It goes against a widely-held perception of a historically high turnout.
Experts have identified the late arrival of officials as one of the factors responsible for the fall in voter turnout recorded in the county's closest presidential race since its return to democracy in 1999.
Olasupo Abideen, the director of Brain Builder Youth Development Initiative, explains that the recorded turnout this time around broke with the pattern of declining voter turnout established in previous elections.
"As an organisation, we did a technical analysis based on the voter turnout from 1999-2019 and we discovered that the [official] figures are because our elections have always been marred with irregularities," explains Olasupo, who headed his organisation's Election Situation Room. He is suggesting that the lower turnout figures given for these elections could be attributed to the digital technology, which prevented multiple voting.
He notes that with the introduction of the BVAS, "we are now seeing the technical number of voters in the country", meaning more accurate figures, an indication that the credibility of all elections between 2003 and 2019 is questionable. "Like I have been telling people, those that came out to vote this time around are more than those in previous elections."
Nimah, who concurs with Olasupo's analysis on the role of the BVAS in eradicating bloated voter figures, noted that a preliminary analysis revealed that young people came out to vote but older ones did not, adding that in the northern part of the country, a significant fraction of the population liked neither of the two Muslim presidential candidates on the ballot – the APC's Tinubu and the main opposition PDP's Atiku Abubakar.
Amid all this, first-time voters like Uche say they have started weighing the option of never participating in future elections since their vote won't count. But experts disagree with this course of action.
"Young people should not give up. We'll continue until we make headway," Nimah maintains.