Rhino poaching in South Africa: organised crime and economic opportunity driving trade – By Keith Somerville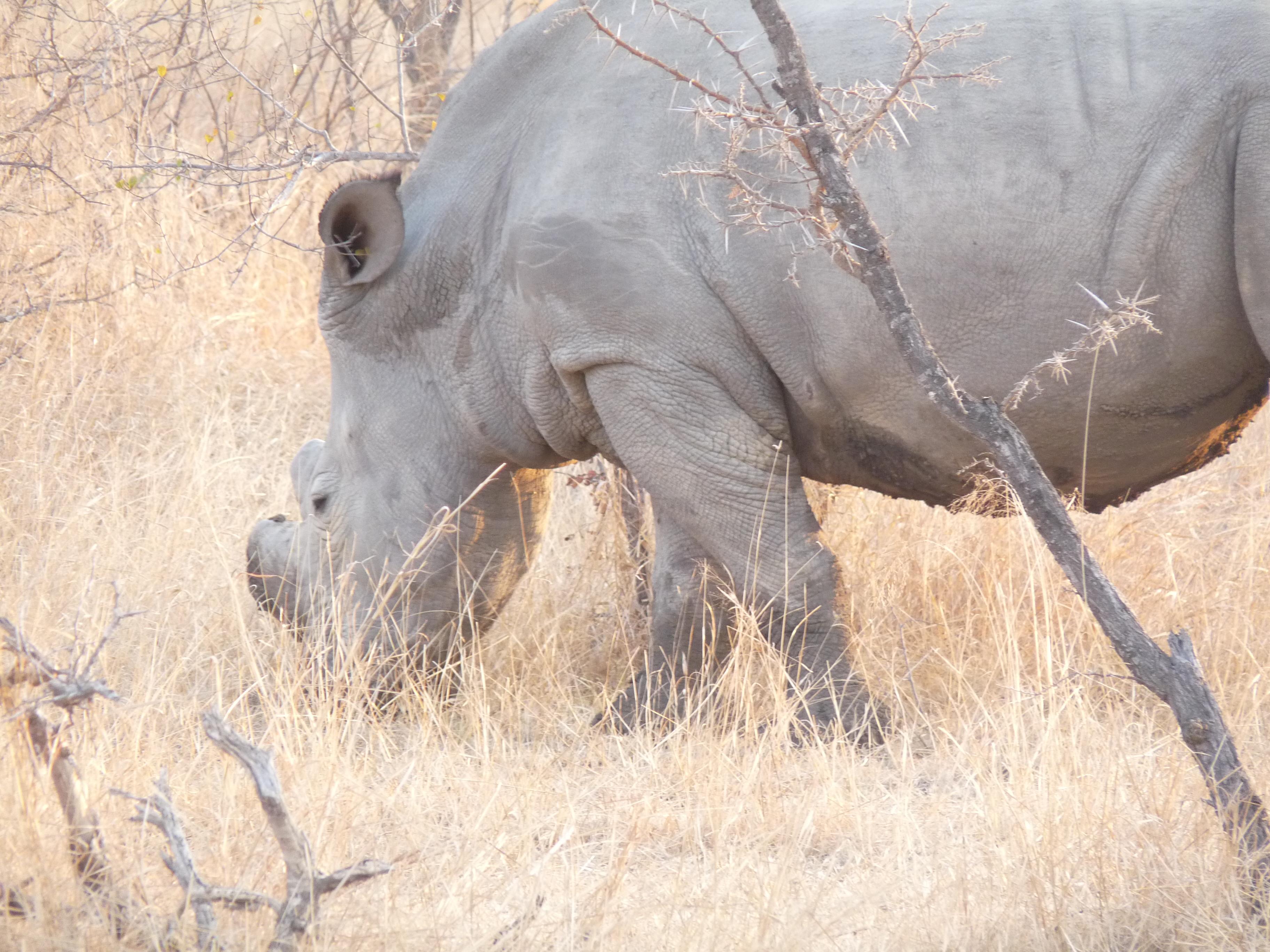 As you enter the region of Hoedspruit in South Africa's Limpopo province – the gateway to the world famous Kruger National Park – you see big signs along the road warning that anti-poaching units will "poach the poachers". The signs also proclaim that the rhinos on  ocal private reserves and game farms have been de-horned so they are of no use to poachers.  I saw the evidence of this when guided round the Tshukudu private game reserve north of Hoedspruit by David Sussens, a game ranger and the son of the reserve's founder.  In three days there I saw more than a dozen white rhino, all of them de-horned.
Why? The simple answer is a massive and organized increase in rhino poaching across South Africa, but particularly in the Kruger National Park in Mpumalanga province east of Hoedspruit and in provincial and private reserves near Kruger and in Limpopo and North-West provinces.  The head of communications at Kruger, Willie Mabasa, told me that 252 of the park's rhino were killed for their horns in 2011 and 176 had been poached up to the end of August this year.  The total poached throughout South Africa is much higher – with 448 killed in 2011 and 293 by the end of August 2012.
These are the official numbers of known kills by poachers, the actual figures are likely to be higher. Some kills go undiscovered and, according to both Mabasa and Sussens, some private farmers are not reporting rhino poaching incidents for a variety of reasons, including not wanting to damage tourist income.
The level of poaching has been rising steadily for years, but there has been a big jump over the past four years.  Kruger (now a Transfrontier park stretching into Mozambique and Zimbabwe) has nearly 13,000 white rhino and 600-800 of the more endangered black rhino.
Organized crime and local involvement
There is no single reason for the massive jump in poaching, rather a combination. Demand is increasing, alongside the ability of "customers" to pay for the horn.  It is used in Chinese and East Asian medicine and, to a much lesser extent in terms of current poaching smuggling, to make much-prized dagger handles for rich Yemenis.  The fast economic growth in China, Vietnam and other parts of East Asia and increasing disposable incomes of those who have benefitted, means that the demand for rhino horn is more than matched by money to pay high prices to offset the risks and costs of poaching and smuggling.  Willie Mabasa said that arrests and convictions in recent  years suggest that Vietnam is a particularly important market.
How does the horn get to the markets to be turned into medicine?  The organization, transport within South Africa and smuggling out of the country is, according to the South African Police and investigators within the National Parks anti-poaching team, carried out by large, sophisticated organized crime syndicates.  These have grown in power in recent years and, as painstakingly detailed by Paul Holden in Who Rules South Africa, links between crime syndicates and local and national politicians are intricate and widespread.
Both private reserve owners and the Kruger authorities believe that syndicates are providing local people with sophisticated, high-calibre hunting rifles (not just old AK-47s) and paying around R50,000 per rhino (which can be as much as three years wages for an unskilled agricultural worker in the region).
But it is not just poor local people who are involved.  A local safari tour operator, Dawie Groenewald is awaiting trial on racketeering and poaching charges.  Groenewald, former Kruger Park wildlife capture head Dr Douw Grobler, vet Dr Johannes Gerhardus Kruger and professional hunter Hugo Ras are all accused of involvement in rhino poaching and of supplying a rhino poaching syndicate with a powerful veterinary tranquiliser M99 that is used to drug extremely large mammals.  The Hawks special police unit have seized assets worth R55m from Groenewald, who is also linked to vets Dr. Karel Toet and Manie Du Plessis, and several big game hunters, who are accused of running a syndicate to poach rhinos
The emerging evidence of professional hunters, vets and safari operators/reserve owners being heavily involved, has created a new picture of the poaching operations. The traditional image is of groups of poor, black rural dwellers who poach to survive and sell the horn to middle men.  That form of poaching is now being complemented by highly organized poaching using much more sophisticated methods by people motivated not by survival, but pure greed.
It is also worrying that while arrests are highlighted in the media, convictions (if they occur) are less well reported. The Wildlife Extra site (http://www.wildlifeextra.com) says that of 29 white suspects arrested in anti-poaching operations since 2006, only 2 have so far been convicted, while over 90 percent of suspects were granted bail.  A fifth of those arrested were vets, a fifth professional hunters, 17 percent were safari operators, 17 percent were repeat offenders and a staggering 72 percent were employed by or connected with private game farms.  Of those charged, 14 percent have never appeared in court, 17 percent have disappeared, and two have been involved in publicly lobbying for the legalization of the rhino trade.
The latter point is an important one.  Over the last 20 years, southern African states with large populations of elephants have successfully gained permission from the IUCN/Cites (International Union for the Conservation of Nature/Convention on the Trade in Endangered Species of Fauna and Flora) for limited, legal sales of ivory following what were justified as necessary culls of elephants in South Africa and Botswana and sales of Ivory stocks by Zimbabwe and Namibia.
There is now a growing feeling among some private reserve owners and rhino breeders that as rhino can be tranquilized and their horns removed painlessly, with no harm to the animal, then this could be a way forward to cut poaching – by supplying what some private reserve owners say would be an ethical, sustainable and non-fatal means of providing  rhino horn for a lucrative market.
David Sussens told me that they had de-horned all 18 white rhino on their reserve and had securely stored the horns.  All the Hoedspruit game farmers in the anti-poaching campaign had de-horned their rhino.  The horns will grow back, he said, and rhino could be de-horned regularly without harming the health or life-expectancy of rhinos.  Breeding herds could be established, the argument goes, to supply rhino horn in this way and undercut the market.
Willie Mabasa at Kruger said this is a non-starter.  He is supported by the weight of opinion against legalized markets among international and South African conservation groups and government authorities. Just as campaigners against any legal trade in ivory have argued that it provides another form of cover for illegal ivory and sustains a market, it is the same with rhino horn.  It is unlikely that national wildlife institutions across Africa, wildlife and conservation NGOs and international regulatory bodies like the IUCN and Cites would even consider such a move, especially if some proponents are linked to poaching.
Anti-poaching campaign
This leaves anti-poaching measures as the frontline method of limiting the trade.  But it is problematic. Kruger now not only has its own anti-poaching unit (as do other national parks) but special police units and army units from the South Africa National Defence Force (SANDF) are actively involved in anti-poacher operations.  Two poachers were shot and killed in Kruger in late 2011 and when I was there at the end of August 2012, I saw regular army patrols going out at dawn and after dusk.  Mr Mabasa said that Kruger now had two Bantam micro-lights for patrolling from the air and that the SANDF could call in helicopter support from Hoedspruit and other nearby air bases. In addition, the Hawks are combating the crime syndicates.
Yet the poaching continues.  In Kruger there is the concern that insiders are involved.  In February 2012, a field ranger, two field guides and a traffic official from the park were arrested on charges of involvement in poaching. The arrests of the men followed the discovery of two dead rhino, both missing their horns. One of those arrested was at the time involved in a strike by some black employees of the park over wage disparities that had not been evened out in the 18 years since the end of apartheid.
It is extremely worrying for Kruger that its own staff are involved and that Dr Grobler, arrested with Groenewald, was a former veterinarian and wildlife capture head at the park. He had been sacked from his post at the park in 2003 for illegal transactions and misconduct relating to his business dealings with a local game farmer.
While Willie Mabasa says that the anti-poaching measures and use of the army is beginning to work, and the rise in poaching had been curtailed in the park, but poaching remains high there and in provincial and private reserves.
Widespread and unalleviated poverty among local people, perceived grievances of park staff, greed, the cynical approach of some vets, hunters and safari operators and a ready market with ready cash mean that the conditions are there for a continuation of the poaching offensive against South African rhinos. The deep-seated problems, corruption and endless changes of leadership within the police combined with the complex web of connections between politicians, government officials and ministers and organized crime do not bode well for the long-term prospects of stamping out the rhino horn trade.
Keith Somerville, School of Politics and International Relations, University of Kent, editor of Africa – News and Analysis.